Description
The world is changing. How well are religious, business, cultural and other institutions positioned to drive positive transformation individually and collectively?
Congregation Rodeph Sholom convenes a panel of thought leaders to ignite a conversation about how societal pillars must meet profound change and their obligation to reimagine.
Hear from:
Rabbi Ben Spratt of Congregation Rodeph Sholom and Rabbi Josh Stanton of East End Temple, authors of Awakenings: American Jewish Transformations in Identity, Leadership, and Belonging
Eboo Patel, founder and President of Interfaith America
Alex Hardiman, Chief Product Officer of The New York Times
Seema Mody, Global Markets Reporter for CNBC
Together we'll explore how the Awakening — a retooling of long-held norms to meet the needs of an evolving and growing Jewish community — mirrors the positive transformations taking place across American society.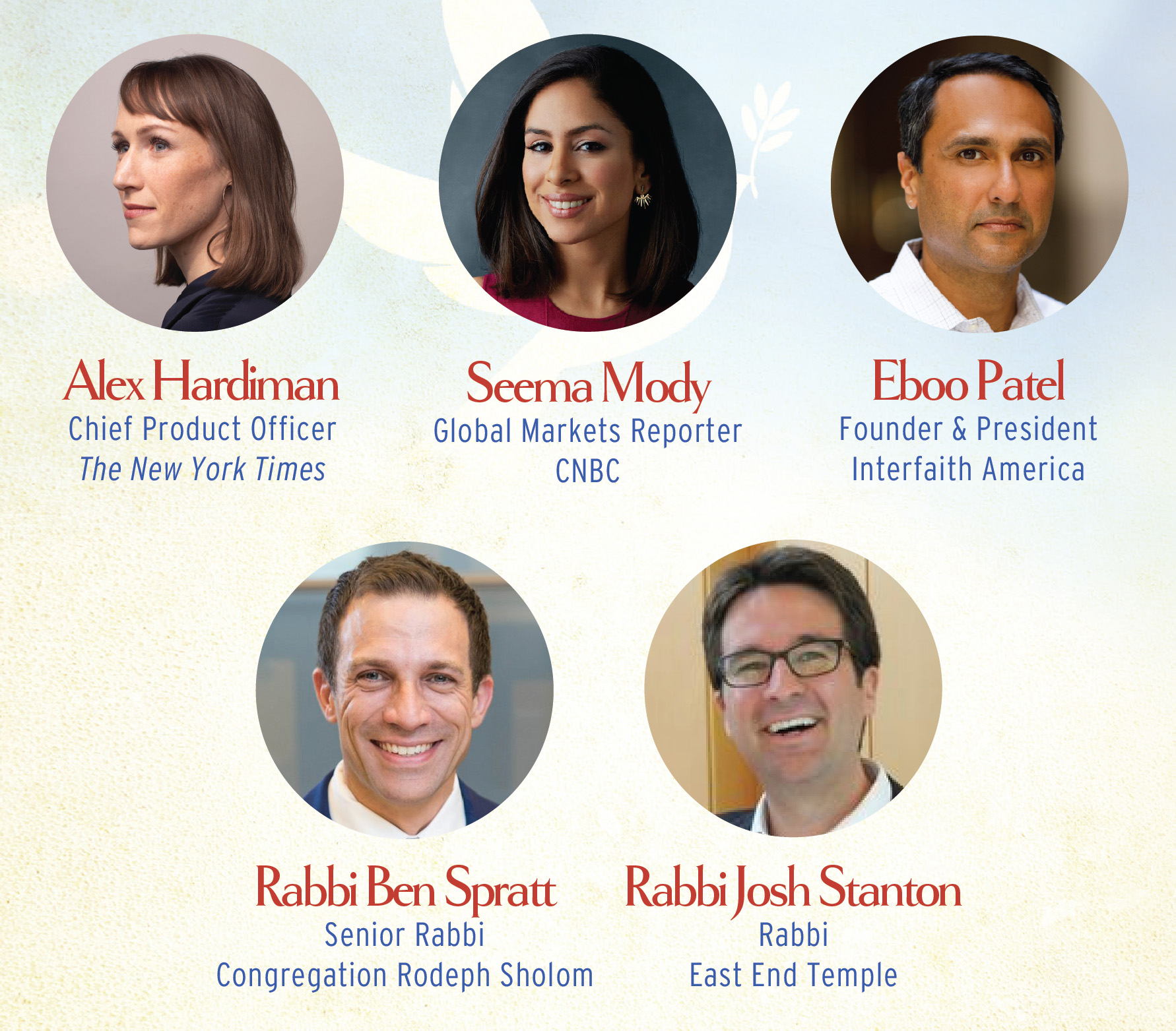 Alex Hardiman is the Chief Product Officer at The New York Times where she oversees the company's News, Cooking, Games, Audio and Kids products that power The Times's subscription and digital advertising businesses. She has dedicated her career to amplifying high quality, independent journalism through technology. Alex previously spent a decade at The Times in a number of senior product roles before leaving for Facebook in 2016 where she served as Head of News Products, overseeing news experiences for Facebook's two billion monthly users. Alex also spent a year at The Atlantic as their Chief Business and Product Officer where she relaunched the company's subscription business.
Seema Mody is a global markets reporter for CNBC, focusing on the intersection of foreign policy and Wall Street. She hosts the "European Close," a daily segment on CNBC's "Squawk Alley. which synthesizes complex topics across Europe for U.S. investors. Mody also covers industrials and the travel industry, including hotels, cruises and online travel operators, for the network. She joined the network in July 2011 as a reporter covering the tech and IPO market from the NASDAQ. Most recently, she was co-anchor of "Worldwide Exchange" based in London where she contributed to live reports across Europe as well as Mobile World Congress in Barcelona and TNW in Amsterdam.
Eboo Patel is a widely acclaimed civic leader who believes that religious diversity is an essential and inspiring dimension of American democracy. Named "one of America's best leaders" by US News and World Report, Eboo is Founder and President of Interfaith America (formerly Interfaith Youth Core), the leading interfaith organization in the United States. Under his leadership, Interfaith America has worked with governments, universities, private companies, and civic organizations to make faith a bridge of cooperation rather than a barrier of division. He served on President Obama's Inaugural Faith Council, has given hundreds of keynote addresses, and has written five books, including "We Need to Build: Fieldnotes for Diverse Democracy" published in May 2022. He is an Ashoka Fellow and holds a doctorate in the sociology of religion from Oxford University, where he studied on a Rhodes scholarship. Eboo lives in Chicago with his wife, Shehnaz, and two sons.
Ben Spratt (he/him) is the 11th Senior Rabbi in Congregation Rodeph Sholom's distinguished 179-year history. He previously served as our Senior Associate Rabbi and the Rabbi in Residence of Rodeph Sholom School. His Jewish journey took him from the Orthodox, Reconstructionist, and Renewal worlds to becoming ordained from the Conservative movement's Jewish Theological Seminary, and eventually landing him as Rabbi here, one of the country's renowned Reform congregations.
Joshua Stanton is Rabbi of East End Temple in Manhattan and a Senior Fellow at Clal. He serves on the Board of Governors of the International Jewish Committee for Interreligious Consultations, which liaises on behalf of Jewish communities worldwide with the Vatican and other international religious bodies. Josh was in the 2015 – 2016 cohort of Germanacos Fellows and part of the inaugural group of Sinai and Synapses Fellows from 2013 – 2015. Previously, Josh served as Associate Rabbi at Congregation B'nai Jeshurun in Short Hills, New Jersey and before that as Associate Director of the Center for Global Judaism at Hebrew College and Director of Communications for the Coexist Foundation. He is a Founding Editor Emeritus of the Journal of Inter-Religious Studies, a publication that has enabled inter-religious studies to grow into an academic field of its own. Josh was one of just six finalists worldwide for the $100,000 Coexist Prize and was additionally highlighted by the Coexist Forum as "one of the foremost Jewish and interreligious bloggers in the world."
Date & Time
Mon, Sep 12, 2022 7:00 PM - 8:15 PM
Congregation Rodeph Sholom