Description
Welcome Back to the Garden!
We look forward to welcoming visitors to the Berkshire Botanical Garden. Our grounds are open May 1st through October 31st, from 9AM-5PM. The Garden officially opens for the 2021 season on Saturday, May 1. We celebrate the start of our 87th season with Roy Boutard Day, Sunday, May 2 with free admission for all!
Safety First: We are a COVID-compliant facility.
On-site programs and events follow capacity and social distancing guidelines. Masks are mandatory regardless of vaccination status, and advance timed ticketing is required.

ADMISSION
Admission includes access to the gardens, art in the galleries and on grounds, a self-guided audio tour, a free group tour scheduled at 11:00 am once each day from June 1st - Sept 1st, and the use of BBG buildings and bathrooms.
MEMBERS & CHILDREN UNDER 12: Free Become a Member!
GENERAL ADMISSION: $15
SENIOR/REDUCED ADMISSION: $14
TUESDAYS: Free
LIBRARY / MUSEUM PASS HOLDERS: Free *Present Museum / Library Pass obtained from participating library at check-in.
RECIPROCAL ADMISSION WITH NARM / ROAM / AHS MEMBERSHIP: Free *Present current membership cards with NARM/ROAM logo for each visitor at check-in. For more information about reciprocal admission click HERE.
MASSACHUSETTS CARD TO CULTURE PROGRAM - EBT, WIC, and ConnectorCare: Free admission to any bearer of these cards, their family and guests. Ticketed events excluded.
*Present EBT, WIC, or ConnectorCare card at check in.
When planning your visit, be sure to check current Covid-19 advisories and restrictions.
Please follow these guidelines when visiting the Garden:
ADVANCE TIMED TICKETING
TICKETS ARE NOT SOLD ONSITE. Advance timed ticketing is required even if you are a Garden member or wish to visit on a free-admission day. Not a member? Become a Member!
To meet state mandates and prevent overcrowding, tickets will be sold online, in advance with limited capacity per time slot. For the safety of staff and visitors, tickets will not be sold onsite. Visits are not limited to the duration of your scheduled arrival. Guests are welcome to remain on the grounds for as long as desired until closing at 5:00PM.
Please reserve your tickets in advance HERE
FACE MASKS
Massachusetts health regulations require that all visitors over the age of five bring and wear a face mask over mouth and nose while indoors in any building at BBG, and at events and gatherings (whether indoors or outdoors). Masks are no longer required while touring our outdoor garden areas, unless you are unable to keep six feet apart from non-household members. These mask regulations apply regardless of vaccination status, and violators will be asked to leave.
ARRIVAL & CHECK-IN
Park in our main parking lot and check-in at the admission desk in the Garden Shop. You will be asked to provide proof of admission for the designated date/time through presentation of a mobile ticket, or by name. If you have a reserved your tickets online, and received an email confirmation, your name, and those of everyone in your party, will be at the Garden Shop check-in.
CANCELLATIONS & REFUNDS
Tickets are non-refundable. However, should your plans change and you are unable to visit BBG after purchasing a ticket, we will gratefully email a donation receipt to you, upon request.
DATE & TIME CHANGES
We are unable to accommodate requests for date or time change. If space allows, we will honor unused tickets from other dates/times at the admission desk in our Garden Shop.
BUILDINGS & RESTROOMS
Restrooms are available with paid admission to visitors in both the Education Center and Center House.
DOGS / ANIMALS
Dogs / animals are not allowed on property or in the gardens.
SMOKING
Berkshire Botanical Garden is a smoke-free environment. No smoking on grounds or in buildings.
ACCESSIBILITY
The terrain is variable, and some gardens are only accessible by stone steps, although these areas are viewable from multiple points. Seating is available throughout the Garden. Many of our paths are accessible for people with disabilities. Wheelchairs are available with advanced reservation by calling 413 320-4794.
LENGTH OF VISIT
Visitors spend approximately 2 hours exploring the gardens and grounds. Visits are not limited to the duration of your scheduled arrival. Guests are welcome to remain on the grounds for as long as desired until 5 p.m. Garden closes at 5pm.
LATE ARRIVALS
Please arrive during your pre-scheduled time slot. However, if running late, provide proof of admission at the gate, and if space allows, you will be granted entry.
FOOD, DRINK AND GARBAGE
Snacks and beverages are available in the Garden Shop. Guests are welcome to bring their own food/drink for consumption on-site. Visitors are asked to carry out what they carry in. PLEASE DO NOT LITTER. Garbage receptacles are not available throughout the garden.
Date & Time
May 1 - Oct 11, 2021
Venue Details
Berkshire Botanical Garden
5 West Stockbridge Road, Stockbridge, Massachusetts 01262, US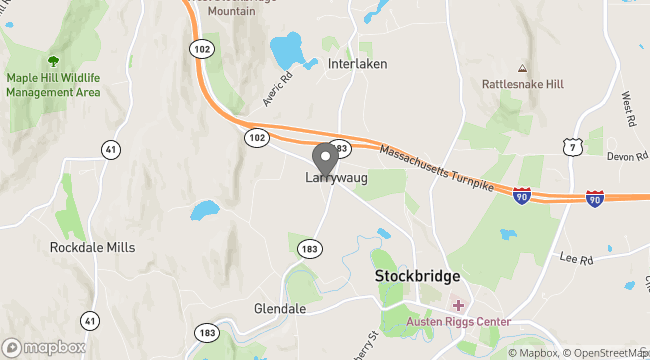 Berkshire Botanical Garden