Description
*****UPDATE: RACE HAS CHANGED FROM MT. TRASHMORE TO A VIRTUAL EVENT.
Join us on the 757FreedomRun, a 5K Run|Walk that commemorates Black History Month. This unique Black History Month 5K is a phenomenal way to honor and pay tribute to those who came before us. There is no denying that African Americans' contributions are present throughout American history and their sacrifices and experiences, paved a path for the next generation to build upon.
For this virtual event, you can participate from ANYWHERE. Run or Walk the 5K in your local gym, at home, or even around the block a few times in your own neighborhood. Track your distance, Record your experience, and know that during this month, hundreds of people are doing as you are. Although this event is now virtual, the 757FreedomFest will live stream our run and videos. We look forward to seeing how you all did during this event.
*Don't forget to include your address in the note section so your finishing medal, certificate, and an optional T-Shirt can be sent to you before February 19th.
This event fosters goodwill and commemorates Black History. The "Beyond the Dream" concept signifies a new vision of MLK's "I have a dream" speech. It focuses on creative ways to encourage community growth, bridge economic opportunities, and repurpose talent into unimaginable futures.
What does "Race Beyond the Dream Really Mean?"
Build on the legacy of our ancestors to
Expand on
Yesterday's lessons and wisdom while promoting
Oneness in
Navigating our shared
Destiny
This event will kick off from February 1st through the end of the month. Upload your video, and pictures to show your Black History Pride.
When: Participate ANYTIME During Black History Month - FEBRUARY 2022
Where: UPDATE: Due to the Uptick with COVID-19, This event is now Virtual
Time: Registration opens at 9:00 a.m. | 5K start time 10:00 a.m.
757FreedomRUN serves as a prelude to the 757FreedomFest and provides a distinctive and creative way to highlight African American culture. The 5K event fosters a "triple-positive" by infusing community events that promote inclusion and participation for a greater cause while manifesting new ways to rebuild, restore, and revive the community spirit of the past.
Adult Packet Includes:
>Finishing Medal<
>Race Bib<
>Official Certificate of Participation<
>Souvenir T-Shirt < *optional
Youth Run Packet Includes:
>Finishing Medal<
>Race Bib<
>Official Certificate of Participation<
>Souvenir T-Shirt < *optional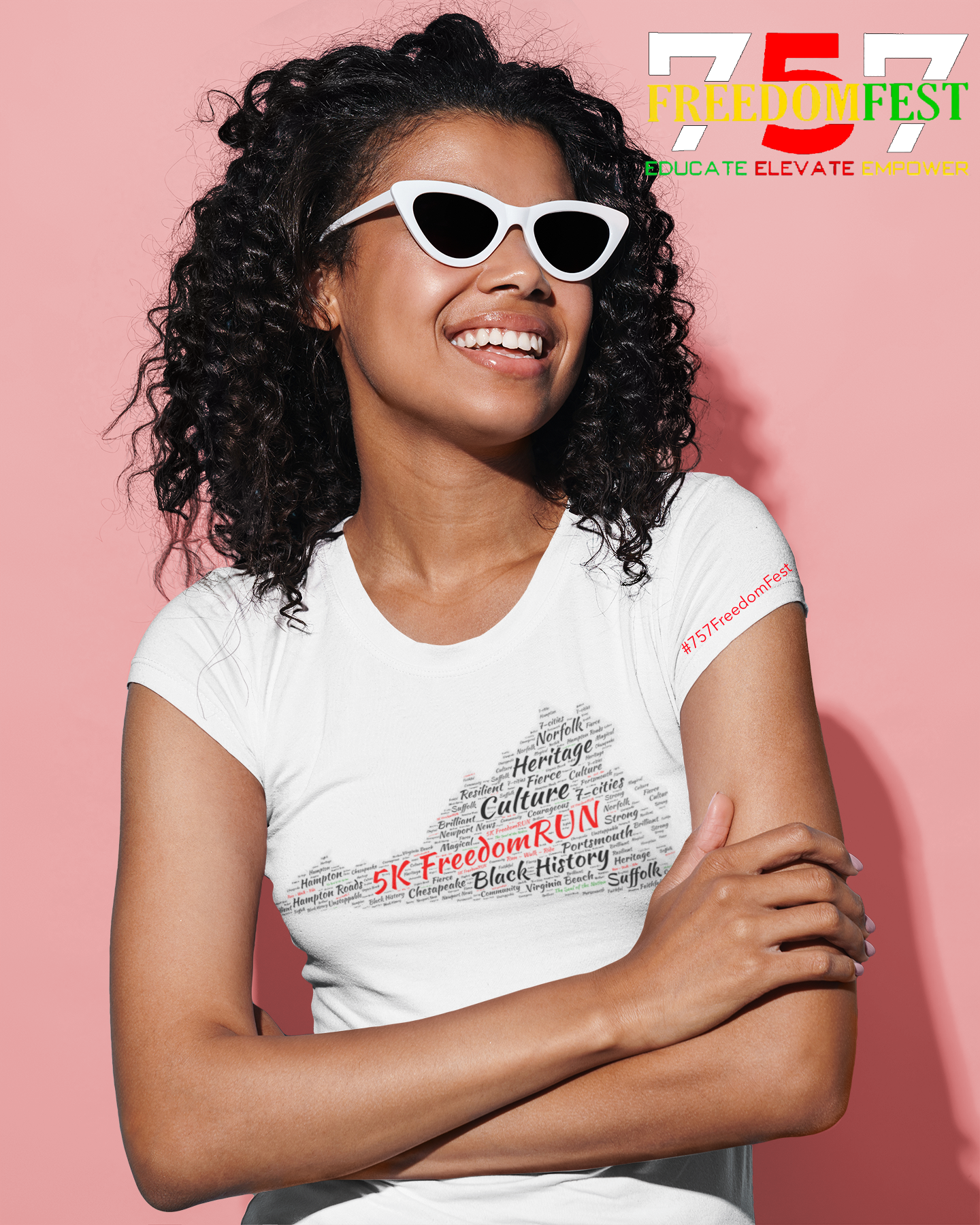 The 757FreedomFest is a nonprofit 501(c)(3) community builder organization.
100% of proceeds support the upcoming Miss Juneteenth Scholarship pageant, the
757FreedomFest, and other community initiatives.
EDUCATE
|
ELEVATE
|
EMPOWER
Thank you for your donation and we hope to see you at the Black History Month 5K!
Follow us across Social | Facebook | Instagram | TikTok ---> @757FreedomFest
www.757FreedomFest..org
Date & Time
Sat, Feb 19, 2022 10:00 AM - 12:00 PM