Description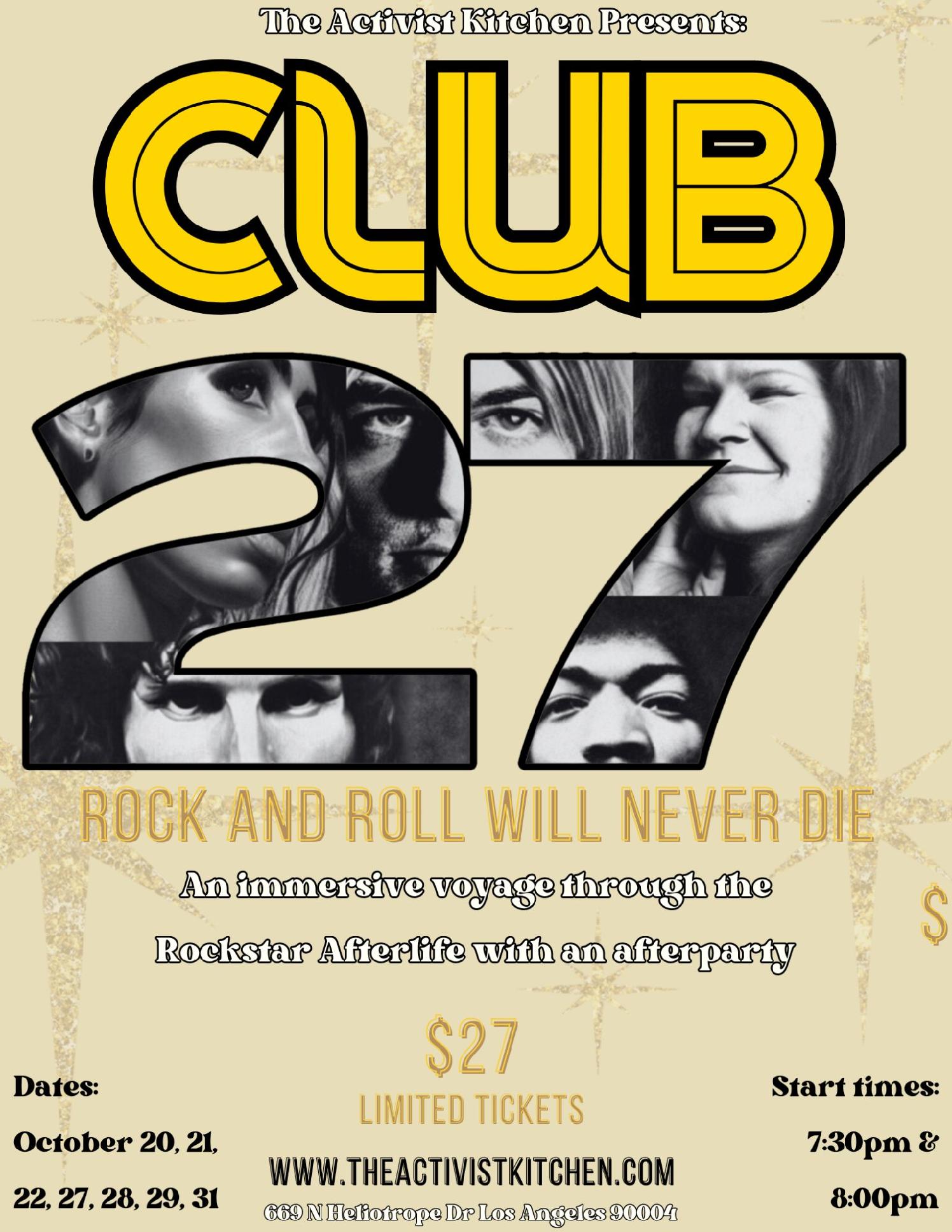 Welcome to Club 27: Rock and Roll Will Never Die.
A musical journey into the afterlife leads to a party of the ages with the spirit of Studio 54. At this Halloween walkthrough experience, led by Marilyn and members of Club 27, you get to party like a rockstar with over a dozen of our long-lost legends. From Janis to Kurt, Jimi and beyond!
Club 27 is the hottest disco in the spirit world, where all the superstars go to keep the party alive.
This October… YOU are invited!
Club 27 will materialize in the physical realm here in Hollywood. You, our exclusive guests, are allowed entry for the voyage into limbo to dance with all your favorites at Club 27. Don't miss out!
The experience has two parts. First, we walk through the afterlife of these long lost rockstars. Some of them sincere and endearing, others heart-wrenching and provocative. All poignant and beautiful. Then, we arrive at the pearly gates of Club 27 for the final act with the party of a lifetime.
Club 27 is an exclusive party with very limited access. Everything in your life has led up to this moment, which means you are a part of our chosen group.
Join us on this interactive musical journey and see if you will make it into Club 27.
Dates:
October 20, 21, 21, 27, 28, 29 & 31st.
Start times:
7:30pm & 8:00pm
**Please arrive 15 mins early to your scheduled ticket time. The event has two prompt start times. One departs at 7:30pm and the other at 8pm. Once both groups make it into Club 27, there will be special performances and an epic dance party.
Dress in the style of Studio 54, or as your favorite rockstar and get a free shot.
This is an immersive event for adults +21.
Date & Time
Oct 20 - 31, 2023
The Activist Kitchen
We are here to empower artists of all kinds!