Description
PRE-REGISTRATION IS CLOSED PLEASE REGISTER AT THE DOOR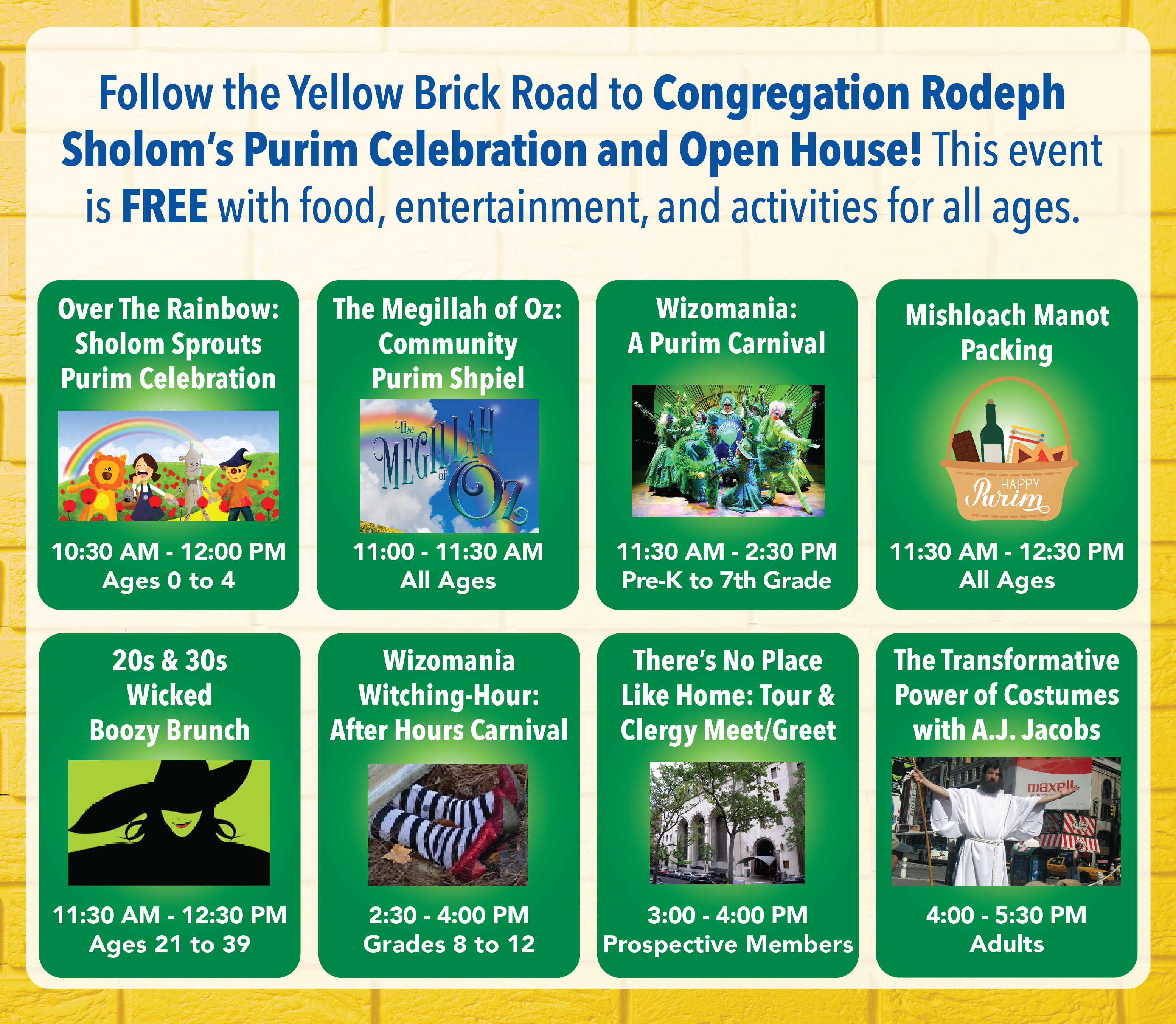 Over The Rainbow: Sholom Sprouts Purim Celebration SOLD OUT - NO MORE SPACES AVAILABLE
Ages 0 to 4 | 10:30 AM - 12:30 PM
A Purim sing-along with our clergy, followed by mask- and crown-making, balloon twisting, pizza, and more! Costumes and silliness encouraged!
The Megillah of Oz: Community Purim Shpiel
All Ages | 11:00 - 11:30 AM
Join a cast of clergy and congregants, including our children and teen choirs, somewhere over the rainbow to hear the story of Purim retold to the music of The Wizard of Oz!
Wizomania: A Purim Carnival
For Grades Pre-K to 7 | 11:30 - 2:30 PM
After the Shpiel, click your heels three times and follow the Yellow Brick Road to inflatables, cotton candy, activities, prizes, and so much more! Be sure to see what happens when some of our favorite staff members end up in the Dunk Tank!
Mishloach Manot Packing
Sponsored by the Rodeph Sholom School Parents Association
For all ages | 11:30 - 12:30 PM
On Purim it is customary to send mishloach manot (gift baskets) with food and drink to family, friends and others. Help pack baskets to be delivered to older adults in our community at The New Jewish Home.
20s & 30s Wicked Boozy Brunch
For Young Professionals ages 21 to 39 | 11:30 - 12:30 PM
How are you celebrating Purim this year? Young professionals are invited to join us for a Purim celebration over tacos and drinks. We'll have Bloody Marys and Mimosas (and Mocktails) and vegetarian tacos from King David Tacos for the perfect hour of "not quite breakfast, not quite lunch" gathering!
Wizomania Witching-Hour: The After-Hours Purim Carnival
For Grades 8 to 12 | 2:30 - 4:00 PM
Join Emerald City's elite for a Carnival that is exclusively yours. Enjoy games, treats, temporary tattoos, and so much more.
There's No Place Like Home: Tour & Clergy/Staff Meet & Greet
For New & Prospective Members | 3:00 - 4:00 PM
Join us for a tour of our building. See our beautiful spaces including our historic sanctuary and newly renovated 5th floor for children and families. Followed by a light nosh and schmoozing with our clergy and staff.
The Transformative Power of Costumes with A.J. Jacobs
Sponsored by CRS Brotherhood & Sisterhood
For Adults | 4:00 - 5:30 PM
To celebrate Purim, New York Times bestselling author (The Year of Living Biblically) and CRS congregant, A.J. Jacobs, takes us on a rollicking journey to understand how the clothes we wear can have a surprisingly powerful effect on our happiness and outlook. He will incorporate the history of dress in Judaism, the psychology of clothing, and his own literary adventures of wearing a robe with sandals, to colonial breeches with a Tricorn hat, to a 100% plastic-free outfit (as seen in The New York Times, January 11, 2023). Costumes are welcome but not required! Reception sponsored by CRS Brotherhood & Sisterhood to follow.
___________________________________________________________________________________
CAN'T ATTEND?
SIGN UP FOR UPDATES ABOUT FUTURE EVENTS!
___________________________________________________________________________________

Date & Time
Sun, Mar 5, 2023 10:30 AM - 5:30 PM
Congregation Rodeph Sholom