Description
DOORS OPEN @ 6PM
7PM SHOWTIME
Journey to Fight Hunger, one meal at a time.
Departure: THE Journey Tribute Band is LIVE @ Rock 'N' Taco Roswell on Wednesday, May 10. This is Rock 'N' Taco's 3rd Benefit Concert in our series; this time, we will be helping provide meals to those in need.
Our 1st "Concerts For A Cause" supporting ALS research through the show headliner, John Driskell Hopkins' foundation, Hop On A Cure, was a sold-out success! A night for the books with a stage full of music's top artists. Our 2nd "Concerts For A Cause" supporting END HUMAN TRAFFICKING NOW endhtnow.org , with their goal of driving awareness and action by bringing together businesses, communities, law enforcement agencies, and NGOs with survivors.
Let's Rock Out For A Cause!
THE BANDS
Show Opener: The Happy Hr Band
HEADLINER: DEPARTURE: THE JOURNEY TRIBUTE BAND
BAND BIO
"In their 15th year together, DEPARTURE is the nation's most respected Journey tribute band. DEPARTURE replicates the look, sound, and feel of the original 80's rock super group; Journey. These veteran musicians love what they do and have developed amazing on-stage chemistry. They pride themselves on giving their audience an incredible high-energy, qualitative stage show from start to finish. Dressed in the iconic tuxedo jacket, DEPARTURE lead vocalist Brian Williams has an amazing singing voice, flawlessly matching Steve Perry's vocal range and on-stage movements.

DEPARTURE plays all the hit songs that everyone knows and loves. They perform for 2 hours straight without taking a break to give their audience the true concert experience. Their performance is professional and highly engaging for their audience. Everything heard during their performance is live, with no pre-recorded tracks used.

Performing over one hundred shows nationally per year, DEPARTURE brings the very best of Journey to audiences of all ages."
SEATING CHART REFERENCE: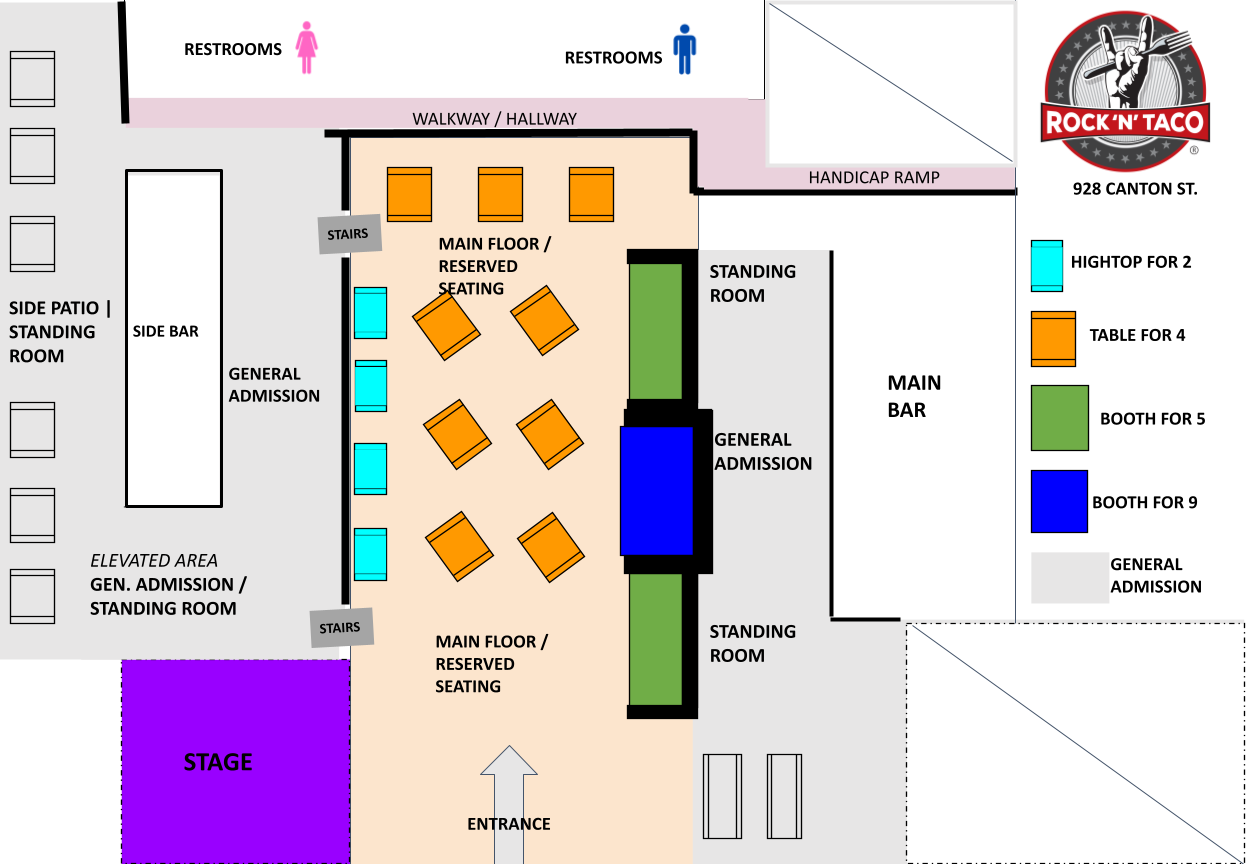 THE VENUE
All ticket holders are able to order food and drinks during the event. Main Floor Table ticket holders will have a designated server for the entirety of the event to order from; for all General Admission ticket holders, you will need to place your orders from either of the two available bars.
For any wheelchair or ADA needs, please contact us in advance at 678-618-3414 or info@rockntaco.com
Take a 3D Tour of our venue HERE
FOLLOW US ON SOCIAL MEDIA
INSTAGRAM- @ROCKNTACO
FACEBOOK- ROCK N TACO ROSWELL
Date & Time
Wed, May 10, 2023 7:00 PM - 11:00 PM