Description
Join us Saturday, July 23rd for a private fundraising event hosted by 97 South Song Sessions. All proceeds go to The Dream Café! The matinee will feature 4 Award-Winning Singer/Songwriter performances showcased at the 97 South Song Sessions Weekend Festival July 21-23rd, 2022 in Penticton, BC.
Artist Line-up for Dream Café Fundraiser:
Jessi Alexander
Singer, songwriter and recording artist Jesse Alexander has written several chart-topping hits on country radio including "I Drive Your Truck," by Lee Brice, which won Song of the Year honours at the CMA, ACM and NSAI Awards, and Blake Shelton's "Mine Would Be You" and "Drink on It." Miley Cyrus recorded her co-write, "The Climb," for the box office hit, The Hannah Montana Movie which was winner of the 2009 MTV Movie Awards' Best Song From a Movie. She has also written songs recorded by Patty Loveless, Reba McEntire, Trisha Yearwood, Morgan Wallen, Brett Kissel and Dallas Smith, among others. Alexander has three albums of her own, the most recent, Decatur County Red.
Maddison Krebs
Singer/songwriter Maddison Krebs, who hails from Alberta, released her first EP at age 15 following up with the album, Your True Love. In 2016, following appearances at the Calgary Stampede and Big Valley Jamboree, she won 'On the Spot', a talent development contest held during Canadian Country Music week in London, Ontario. That resulted in a move to Nashville where she played the legendary Ryman Auditorium and met one of her major inspirations, Dolly Parton. 2018 found Maddison working alongside some of music's best songwriters and producers including Jeff Trott, Tony Martin and Drew Bollman. The best of those collaborations was showcased on her eponymous 2019 EP.
Jeff Trott
Singer, songwriter and producer Jeff Trott, who was named Songwriter of the Year by BMI in 1998, has co-written some of Sheryl Crow's biggest hits including "If It Makes You Happy," "Everyday is a Winding Road," "A Change," "My Favorite Mistake" and "Soak Up the Sun." As well as producing albums and songs for Crow, he has also worked in that capacity with artists like Stevie Nicks and Hootie and the Blowfish. As a musician, he has played in bands such as Wire Train, World Party, and Tears for Fears. He launched his own solo recording career in 2001 with the album Dig Up the Astroturf.
Tim Nichols
Inducted in 2017 into the Nashville Songwriters Hall of Fame, award-winning songwriter, Tim Nichols, has become one of the genre's most respected and well-liked members. Classic country music fans appreciate his number one hits for artists like Alan Jackson, Reba McEntire, Keith Whitley, LeeAnn Womack and multiple others, while newcomers are just as thrilled about his recent work which includes songs by Blake Shelton, Jason Aldean, Chris Young or Jana Kramer. Crowd favourites continue to include record setting hits like JoDee Messina's "Heads Carolina, Tails California," Dustin Lynch's "Cowboys and Angels" and the Grammy Award winning, "Live Like You Were Dying," recorded by Tim McGraw.
97 South Song Sessions is an acoustic, bluebird style music performance event where award winning, multi-genre Songwriters and Recording Artists share the stage, entertaining the audience with tales of the creative journey that inspired their hit songs which they perform acoustically. The result is an intimate show that is variously touching and humorous, and certainly unforgettable.
*Purchase your ticket to matinee show before July 10th and be entered to win two 97 South VIP passes! Draw Date: July 10th, 2022.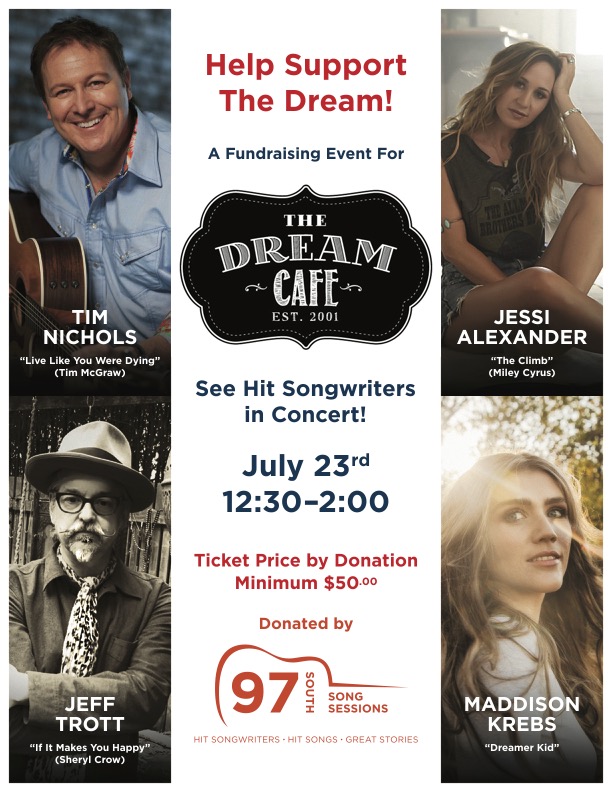 The Dream Café
Doors and Kitchen Open at 6pm - unless otherwise stated
Shows start at 8pm.
Find more The Dream Café Events