Description
Girls Need Guitars: A Benefit to Provide Guitar Lessons and Songwriting Workshops for Foster Kids in Whatcom and Skagit County.

Erin Corday Cinematic Folk & Americana She wraps her voice around a trip‐hop folk song, a Brazilian classic, even the sound of skipping stones across the water. Of Mexican, Icelandic, and Swedish ancestry, Erin Corday is an American singer and songwriter who brings a love of epic quest, emotional depth, lyrical imagery, and imagination to subtly dynamic performances. With influences as diverse as Joao Gilberto, Stina Nordenstam and Daniel Lanois, she has been compared to Sarah McLachlan, Bebel Gilberto, Tori Amos, Joni Mitchell, and Karen Peris of Innocence Mission. Moving from rhythmic folk‐chill to lush down‐tempo ballads and Americana, Corday's main instrument onstage is her Gibson ES‐335 electric guitar. Joel Litwin accompanies on drums, percussion, and vocals. Erin has headlined at premier concert halls (500 ‐ 1,200 seats) with Johnny Cunningham, Mícheál Ó Domhnaill and the Flying Karamazov Brothers as well as solo at The Met in Spokane. The "quietly alluring hit" of the '98 Mission Folk Music Festival, Erin's festival credits include Bumbershoot and evening Main Stage performances at the Ottawa Folk Festival, Blue Skies, and the Festival de Verano in Mexico City. She has appeared on festival panels with Martin Sexton, Vance Gilbert, and Bill Bourne, and co‐billed with Rose Polenzani, Blame Sally, Jim Page, Laura Love and Sons of the Never Wrong. Erin's fourth LP and national release Painted Door reached #28 on the Top 40 Folk‐Roots nationwide (Crossroads). Recorded live at the Seattle Mercer Arena and other venues in Washington State, the album features Erin's vocal percussion and a Portuguese version of Frágil by Sting.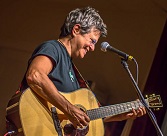 Tret Fure began her career at the age of 16, singing in coffeehouses and campuses in the Midwest. At 19, she moved to LA in hopes of obtaining a record deal. Within a year she was performing as guitarist and vocalist for Spencer Davis, touring with him and penning the single for his album "Mousetrap". She went on to record her own album "Tret Fure" in 1973, on MCA/UNI Records, with the late Lowell George of Little Feat as her producer. With the success of that release, she opened for such bands as Yes, Poco, and the J Geils Band. A prolific artist in the contemporary singer-songwriter arena, Tret Fure has released 17 albums and CDs over the course of her 51 year career. In addition to being a gifted songwriter, Fure has engineered and produced countless recordings by a variety of artists, including her own work. In the early 80s, Tret moved to the independent side of the industry discovering the blossoming genre known as Women's Music. She recorded with and produced some of the best of women's music including mixing the legendary "Meg & Cris at Carnegie Hall" (1983). She worked as a duo with Cris Williamson throughout the 90s, producing, engineering, and releasing 3 CDs together. Now after 9 acoustic releases on her own label, "Tomboy girl Records", she has re-established herself in the folk world.

Fay Eiford was born and raised right here in Bellingham Washington. She has had a passion for music since she can remember. Ever since she was 3 years old, Eiford has been a performer. Singing and dancing her way around the hardwood kitchen floors, she grew up in the spotlight. Now at 20 years old, she is performing original songs on the hardwood floor of a stage. Her mentor/ teacher is the lovely Erin Corday. They spend many hours practicing, learning, and goofing around together. This fall Eiford will attend Cornish College of the Arts in Seattle, Washington. There she will use all Corday has taught her to further her musical career. Once there, she hopes to create her first album and play live shows all over the Seattle area. Keep your eyes open for her next gig! -Sophie Bechkowiak Journalism Major at WWU, and friend.
Date & Time
Sat, Aug 6, 2022 7:00 PM - 9:30 PM