Description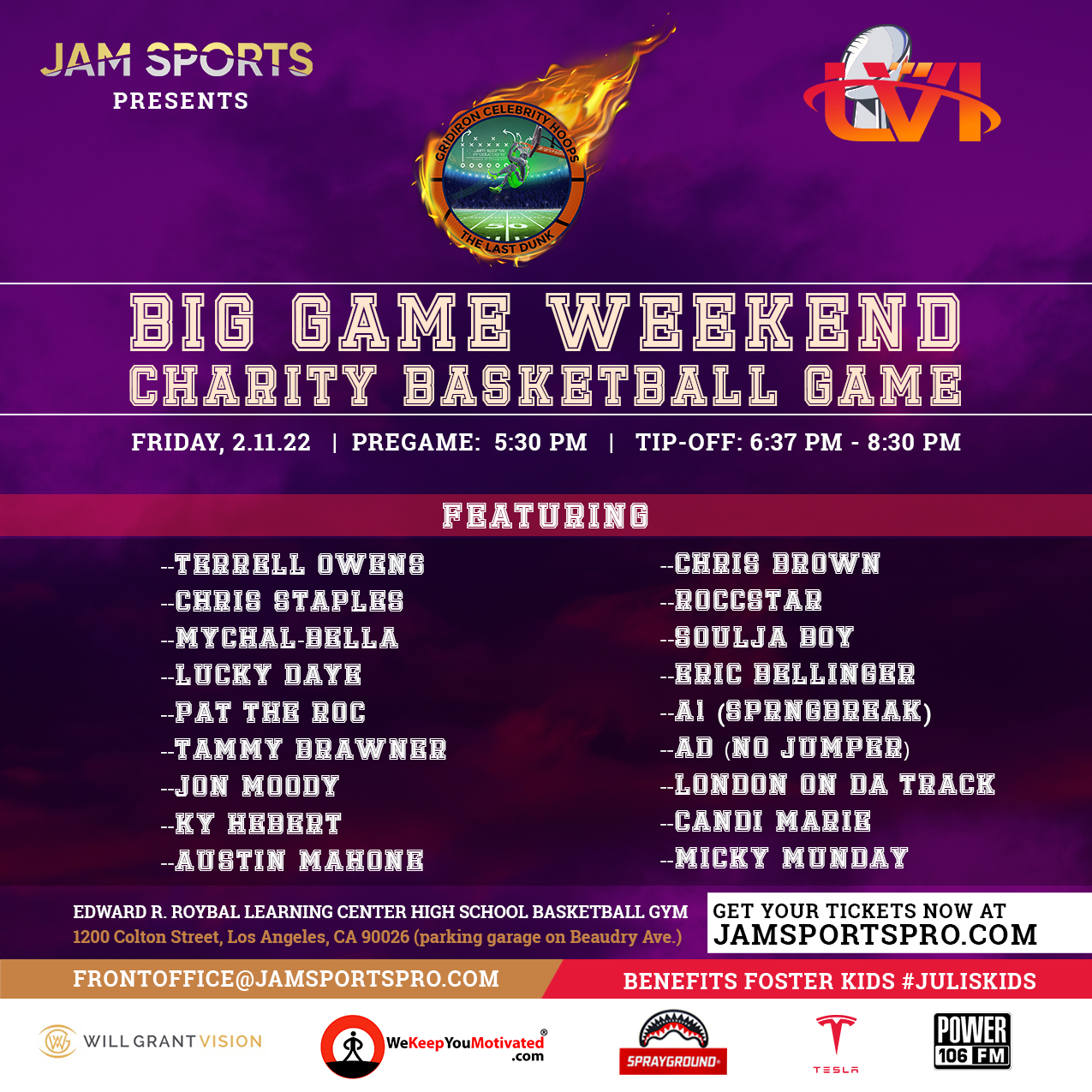 Gridiron Celebrity Hoops | The Last Dunk is uniquely positioned as the first and only celebrity basketball game to have ever become officially sanctioned by the National Football League. Independently produced exclusively by Jam Sports Productions, this preeminent event is where NFL players, prospective NFL draft picks, boxing champs, content creators, social media influencers, streetballers, and celebrities from music, television, film, and sports, get together for an electric game of competitive hoops. Football is #1 to us. But one of the favorites activities of pro football players is basketball! So, in 1998 we combined their interests into a once-in-a-lifetime experience to provide fans the Best of Both Worlds - their favorite football heroes playing in a competitive game of basketball alongside comedic commentary, fan-interactive games, honorary presentations, the celebration of Black History Month, contests, live entertainment and more.
We have been running this incredible charity basketball showdown for over 20 years. This 23rd year will be the final rendition of the game and we are affectionately calling it, "The Last Dunk". It may be our last season, but it promises to be bigger and better than ever with lot of surprises!
Come bear final witness to a league of our own, NNB (Never Not Ballin') and watch our version of the AFC team (American Foster Care) vs the NFC (National Foster Care). Two squads, one final trophy.
Proceeds from the event will benefit the 501(C)(3) foundation Juli's Kids Motivated to Succeed, Inc. (affectionally referred to as Juli's Kids). The children's charity is a non-profit organization whose mission is to protect, motivate, inspire, strengthen, empower, and enrich the lives of abused, abandoned, neglected, bullied and homeless children and teens, who through no fault of their own are placed in foster care, group homes, kinship care, homeless shelters, domestic violence centers or LGBTQIA+ teen residential housing in intentional communities.
We've got a story to tell. 23 years of service to the foster care community with the abundant assistance of celebrities, influencers, athletes, and trendsetters. It's our turn to tell our story.
Key Elements: Celebrity/charity basketball game highlighted by fan-favorite activities:
◆ Celebrity/charity basketball game highlighted by fan-favorite activities & NFL-themed features
◆Pre-game activities and fun
◆Live entertainment, Red Carpet arrival, content creators interviewing celebs
◆Special salute to Black History Month emblematic of freedom, fortitude, bravery, and pioneering spirit
◆Crowd interactive games, free prize giveaways, and contests
◆Sponsor exhibits, photo booths, 360° slow-motion video and camera kiosk, customized activations, food, and merch vendors
◆Free celebrity photographs, autographs, jersey swamps, prizes, electronic gifts and giveaways
◆Honoring of the influence of Kobe Bryant, Michael Jordan, Terrell Owens, Ray Lewis, and other greats
◆Gridiron Celebrity Hoops continues to be the premier all-star charity-basketball game that captures the sights, sounds and action of the many different facets of the NFL
(Tickets are non-refundable, non-transferable. Limited exceptions apply)
Date & Time
Fri, Feb 11, 2022 5:30 PM - 8:30 PM
Venue Details
Edward R. Roybal Learning Center Basketball Arena
1200 Colton Street
Los Angeles,
California
90026