Description
Join Sonoma Ecology Center, Team Sugarloaf, and Bill Myers and Dave Chalk, for a very rare opportunity to hike from Hood Mountain Regional Park to Sugarloaf Ridge State Park via the historic McCormick Ranch section of Sugarloaf. This year we have two versions:
Original Route - from Los Alamos parking lot in Hood Mountain Regional Park to Sugarloaf's day use picnic area via McCormick and Bald Mt.. 11 miles and 3,200 ft of elevation.
Epic Option - Sugarloaf's Goodspeed trail into Hood Mt. down to McCormick and joining the rest of the group. 17 miles. 5,600 ascent. This is a rigorous hike for advanced hikers (limited to 15 tickets).
This event will be a grand tour of the Mayacamas Mountains in the northern half of Sonoma Valley, where we will pass close to the headwaters of Santa Rosa and Sonoma Creeks. The Perry family has generously given permission to hike through their property, allowing our adventure to go the back way along the Napa/Sonoma County line. Sonoma County Regional Parks has also kindly allowed us to use the Los Alamos parking lot as a drop-off point, despite of the Hood Mtn Regional Park closure.
The route will take participants through some of the wildest and most beautiful sections of Sonoma County filled with massive trees and lovely wildflowers. The terrain also holds history of the McCormick and Hurd families. At the end of the 11-mile hike, join your fellow adventurers for a delicious tri-tip BBQ meal at the Sugarloaf day-use picnic area. Beer and wine included.
Original route: Participants should arrive at Sugarloaf Ridge State Park no later than 8:45am. Shuttle buses will leave at 9am to the Los Alamos parking lot of Hood Mountain Regional Park. From there, hikers will follow Santa Rosa Creek Trail down to Homestead Meadow and then cross into the McCormick addition of Sugarloaf. We will work our way up Quercus Trail, to the location of the Grandmother Oak overlooking the former Spaulding Property, and have a brief stop at Red Hill. Continuing up Maple Glen Trail, with permission from landowner Jim Perry, our group will hike southeast along the county line and enjoy lunch at the top of "Hill 2530" (named for its elevation). W e will enter Sugarloaf and take a break at the Red Barn where snacks and cold drinks will be provided by Team Sugarloaf. The group will then proceed up to Bald Mountain and finally work its way back down to the day-use area at Sugarloaf for a barbecue dinner. The route covers approximately 11 miles with an elevation gain of about 2800 ft. We expect to arrive at the barbecue at about 3:30pm.
Epic Option: For advanced hikers. Meet at Sugarloaf's Visitor Center at 6:15am for a 6:30am departure. Meet up with the group hiking from Los Alamos at Santa Rosa Creek at about 10am.
Tickets
Ticket price: $80 each. Tickets include transportation, snacks, drinks, and BBQ.
Please bring a lunch, water and be prepared to walk 11 or 17 miles depending on the route you registered for over the steep and sometimes rough terrain, stream crossing of minimal depth. Dress appropriately for the weather and the ticks.
Underwriting Options: Help us defray the costs of the event and make it a true fundraiser.
Epic Underwriter: $5000 (includes a ticket to the hike -Tax Deductible)
Feast Funder: $500 (includes a ticket to the hike – Tax Deductible)
School Bus Sponsor: $250 (includes a ticket to the hike – Tax Deductible)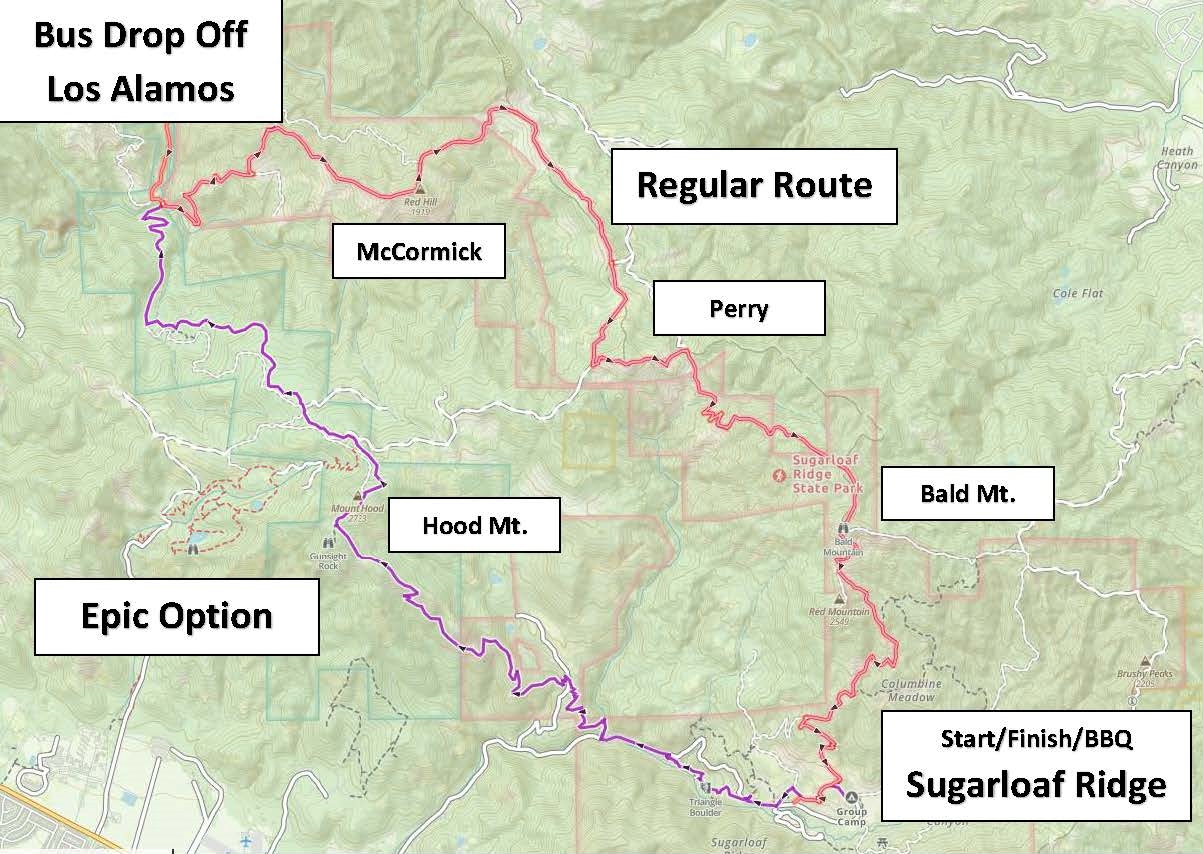 Date & Time
Sat, May 21, 2022 6:00 AM - 4:00 PM
Sugarloaf Events - SimpleTix