Description
Improv for Personal and Professional Development - five week workshop
Starts Tuesday, July 18, 2023, 7:00 PM to 9:00 PM at: K1 Speed, 17221 Von Karman Ave., Irvine, CA 92614, in their large F1 classroom.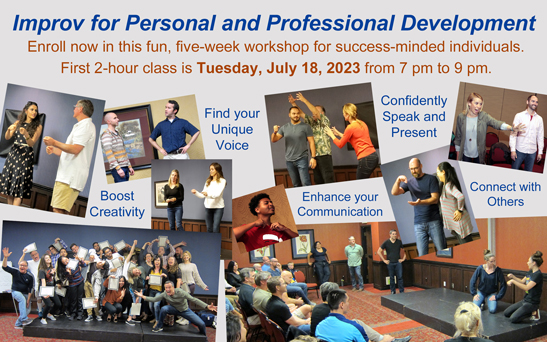 A fun, five-week workshop series that will enhance your communication style and improve your unique voice. Learn how to leverage the proven benefits of improvisation to boost your creativity and connect confidently with others.
FIVE 2-HOUR CLASSES, TUESDAY EVENINGS IN ORANGE COUNTY

WHO: These classes are ideal for:
All success-minded individuals.
Entrepreneurs and business owners.
Professionals working in any size organization.
Business students and recent college graduates.
Actors and voice-over pros.
WHEN: The first class is Tuesday, July 18, 2023 from 7:00 p.m. until 9:00 p.m. The following four (4) classes are:
2) Tuesday, July 25, 2023 from 7:00 p.m. until 9:00 p.m.
3) Tuesday, August 1, 2023 from 7:00 p.m. until 9:00 p.m.
4) Tuesday, August 8, 2023 from 7:00 p.m. until 9:00 p.m.
5) Tuesday, August 15, 2023 from 7:00 p.m. until 9:00 p.m. (Graduation night!)
(If any restrictions [ex: Covid-19] prevent this workshop from starting on July 18, all purchased enrollments will be automatically applied to the contingency re-start date of September 5, 2023.)
WHERE: at our great, new location: K1 Speed, 17221 Von Karman Ave., Irvine, CA 92614, in their large F1 classroom.
HOW: Regular enrollment fee is $297 per person. Use $100-off Early Bird discount code "earlybird100" to reduce the enrollment fee to $197. Click on the link to purchase.
WHY: Because individuals who can quickly and creatively adapt have a competitive advantage.
A growing number of forward thinking organizations are training their employees in the same skills that enable a team of improvisational performers to create an unscripted scene on stage.
Now you can experience the personal and professional benefits of these improv skills through this workshop.
In the constantly changing stage of life and business, applying improv-based tenets of collaboration, trust and situational advancement has been proven effective.
Comments from attendees of recent Advantage Improv training events include:
"If you're naturally introverted but wish you could be more outgoing (because it DOES help in life), I promise you'll find no better cure than attending an IPPD workshop. Bob and Lee are fantastic instructors that go above and beyond with each student. They encourage you to step outside your comfort zone while providing the utmost support. You'll learn through both instruction and practice on how to think better on your feet, as well as improve upon one of life's most rewarding skills -- active listening. It's a requirement for improv and you'll find it greatly improves your relationship with others.

Finally, these classes are just plain fun. It's not often you can let your guard down and be silly among a group of people. Can't forget to mention that it's an AMAZING value. You're not going to find this high quality of instruction (even in the improv mecca of Los Angeles) for such a deal. I recommend you sign up quickly before they figure it out..."

Phillip McCollum
"Bob and Lee are such dynamic leaders. The environment they create at Advantage Improv is the perfect mix of fun, delight, challenge, safety and teamwork (not to mention funny British accents). As a complete beginner to improv I felt like I was part of the troupe from the onset. The exercises were perfect at connecting the participants and getting us in sync to begin creating improv performances.

I learned a lot about myself during the 5-week class. I learned I don't always go all in, but when I do it sets up my teammates for success and we can do anything! I also learned that improv, like dancing, can be truly amazing when the performers are connected by a sense of reciprocity with each other and their audience. I can't wait for the next class!"

Andy Shouse

"As an Eagle Scout I learned that the Scout's motto is to "always be prepared." I am quite good at planning the future and/or living in the past. What I have been wanting, though, is to improve being present. Knowing this about me, no less than three of my friends in one month suggested I take a class in improv to help with this goal. Had to be a sign, right?

Last week I completed 5 weeks of improv and want to encourage anyone with the same goal to check out Advantage Improv. Bob and Lee developed a program that helps you push and challenge one's comfort zones, while also making you feel completely safe. I was so impressed by the classes that I signed up for the next 5-week IPPD workshop!"

Adam Alexander
"Just when I thought I knew it all, I found Advantage Improv! You'd think with a Master degree in Speech Communication, I'd be an expert. Well, I was so pleased to know, even I could learn so much more about connecting positively with others through improvisation. What I'm improving most is how to be present and really actually listen to others.

There's never a dull moment in class, it's so interactive and super fun. Lee and Bob are the most entertaining improv coaches. They really make it exciting to learn! Come along to discover new communication skills for everyday life!"

Tami Smith

More important than the certificate you'll receive, graduates of this workshop series will discover how improv skills can expand and maintain strong, long-lasting connections.
If you have any questions, please call or text Lee with Advantage Improv at (714) 388-6533.
Date & Time
Tue, Jul 18, 2023 7:00 PM - 9:00 PM
Advantage Improv
Advantage Improv teaches organizations and teams how to boost creativity, effectiveness and profits by leveraging proven improvisational techniques.
Find more Advantage Improv Events