Description
Libretto and Music by Hector Berlioz (1862)

Wedding drama reaches new heights when Shakespeare's famous "will they or won't they" couple face off in a battle of wits — the day before their friends' long overdue wedding takes place. Add in meddling family and friends, and the result could be wedded bliss. Or a complete catastrophe!

In this new production, Hector Berlioz's operatic adaptation of Much Ado About Nothing is envisioned as a 1950s Sicilian summer evening's adventure.

Join us for a journey through the soaring melodies, hidden delights, and timeless story of Béatrice et Bénédict.
Pay-What-You-Will tickets are available.
Tickets are non-refundable and non-exchangable.
For purchases at the door, we will be accepting debit/credit only.
If you'd prefer to order tickets over the phone please leave a message with us at 778-721-5341, and indicate the best time and date for a callback.
Any information collecting during ticket purchase will be kept private and confidential and will not be shared with any third parties.
Opera Kelowna
The Opera Kelowna Society is a registered non-profit professional opera company and training centre for promising operatic artists.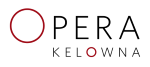 Find more Opera Kelowna Events