Description
A return of our popular 2020 production of Proof. Proof was planned to perform in Philadelphia in May 2020 but due to the pandemic, we presented the show virtually. We are now bringing the show back in-person at the Bluver at the Drake in Philadelphia, June 3-5 2022!
About Proof
How do we care for aging and sick parents? How do we deal with the death of a loved one? What do you do when you realize your life is stuck?
Proof explores how two sisters deal with the slow deterioration of their father, after mental illness results in sickness and ultimately, death. A play written by David Auburn in 2001, Proof was awarded the Pulitzer Prize. In 2005, the story was remade into a movie starring Gwyneth Paltrow, Anthony Hopkins, Hope Davis and Jake Gyllenhaal.
The late theatre critic, John Simon, praised Proof as a play where "All four [characters] - whether loving, hating, encouraging or impeding one another - are intensely alive, complex, funny, human."
Please note:
Tickets are general admission. House will open 30 minutes prior to showtime for first come first serve seating.
Tickets are non-refundable but exchanges are free.
COVID-19 Protocols:
Please take note of the following COVID protocols.
Guests are highly encouraged to be vaccinated, however we will not be requiring or checking vaccination records for entrance to the venue.
Masks are required for all audience members at all times regardless of vaccination status. Masks must be worn properly covering both nose and mouth. Please see CDC guidelines for acceptable face coverings. Surgical or N95/KN95 masks only, cloth masks are not acceptable.
COVID-19 Warning and Waiver of Claims:
WHILE THE MASQUERADE THEATRE IS DOING OUR PART TO ENSURE THE HEALTH AND SAFETY OF EVERYONE IN THE THEATER, AN INHERENT RISK OF EXPOSURE TO COVID-19 EXISTS IN ANY PLACE WHERE PEOPLE GATHER, SO WE CANNOT GUARANTEE THAT ALL EXPOSURE TO COVID-19 WILL BE ELIMINATED AS A RESULT OF THESE PROTOCOLS. COVID-19 IS A HIGHLY CONTAGIOUS DISEASE THAT CAN LEAD TO SEVERE ILLNESS AND DEATH. BY VISITING OR ENTERING THE VENUE, YOU ASSUME ALL RISKS, HAZARDS, AND DANGERS INCIDENTAL TO THE EVENT FOR WHICH THE TICKET IS ISSUED. YOU VOLUNTARILY WAIVE ANY AND ALL CLAIMS AND POTENTIAL CLAIMS AGAINST MASQUERADE THEATRE, EVENT PARTICIPANTS, AND PERFORMERS, AND EACH OF THEIR RESPECTIVE EMPLOYEES, AGENTS, AFFILIATES, OFFICERS, DIRECTORS, OWNERS, VENDORS AND CONTRACTORS, THAT ARISE FROM OR RELATE IN ANY WAY TO, HOWEVER CAUSED, THE RISK OF CONTRACTING OR THE ACTUAL OR ALLEGED CONTRACTING OF COVID-19, OR THAT ARISE FROM OR RELATE IN ANY WAY TO, HOWEVER CAUSED, THE RISK OF EXPOSURE OR ACTUAL OR ALLEGED EXPOSURE TO A BACTERIA, VIRUS OR OTHER PATHOGEN CAPABLE OF CAUSING COVID-19 OR ANY OTHER COMMUNICABLE DISEASE OR ILLNESS, IN EACH CASE WHETHER THE ACTUAL OR ALLEGED CIRCUMSTANCES GIVING RISE TO ANY CLAIM OCCUR BEFORE, DURING, OR AFTER THE EVENT.
Date & Time
Jun 3 - 5, 2022
Venue Details
Louis Bluver Theatre at the Drake
302 South Hicks Street
Philadelphia,
Pennsylvania
19102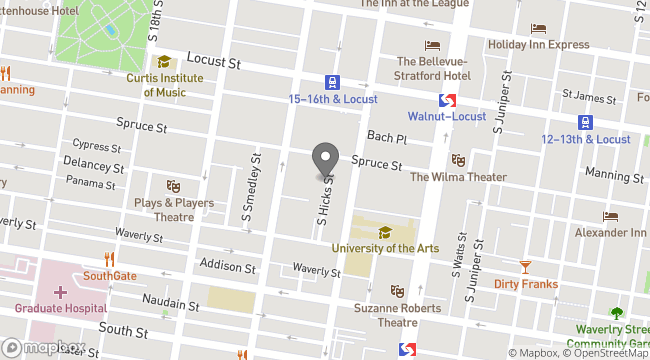 Masquerade Theatre
Masquerade Theatre is dedicated to using theatre to unveil our masques and explore our common humanity.
Find more Masquerade Theatre Events