Description
THIS IS A VALID PASS FOR THESE ATTRACTIONS:
Otavalo Tour with Quito Tour Bus
Tour Destination: Otavalo, Ecuador
Tour Hours: Every Saturday from 8 am to 7:30 pm (11 hour total duration) Please confirm tour date upon booking
Pick Up and Drop Off Location: Leave from Quito (choose a location):
8:00 am in Plaza Grande

8:30 am in Plaza Foch

9:00 am at UN Bulevar
Make sure to arrive at least 15 minutes before the tour departure.
Directions to Naciones Unidas Boulevard: You can get there by Taxi or Ecovía. If you take Ecovia, hop off the tram in stop "Naciones Unidas" and walk West on Naciones Unidas Avenue towards Shyris Av. Cross this avenue and a few feet away you will Quito Tour Bus' main station.
Schedule of Events:
The tour pick up on Quito Tour Bus at 3 centralized locations between 8 - 9 am (listed above).




At 10:15, the tour arrives at the Quitsato Solar Clock located on the Equator. We will stay here for 45 minutes and board the bus again heading to the nearby Mirador de San Pablo Lago. Enjoy the view of the lake and after a short visit, we'll enjoy a taste of the best bizcocho pastry cake in the country.

At 11:45am, the tour arrives at the Otavalo market, the largest indigenous market in South America, where you will have 2 hours of free time for shopping and lunch (on your own).
Otavalo is world famous for its craft fair, offering countless products created by the hands of skilled and experienced craftsmen. In this market you can find a variety of textiles, wood crafts, balsa, carved, key chains, jewelry, jewelry, paintings, antiques and more.

At 2:00pm, we will leave the market and go to the Peguche waterfall. It's a spiritual place where the inhabitants go for a sacred bath on the eve of Inti Raymi. Here we'll go for a walk until we reach the falls and visit the workshop of Ñanda Mañachi, a family that crafts traditional musical instruments, including panpipes, charangos.

Around 4:00pm, the tour visits the Cuicocha Museum and then we'll enjoy a boat tour, traveling around the islets.

At 5:00 pm we'll start driving back to Quito where we'll arriving at 7:30 pm.
Inclusions: Transportation, Bilingual Tour Guide, Entrance Fees
What to Bring: Comfortable Shoes, Camera, Layers, Umbrella or Rain Jacket, Extra money for personal items
Venue Details
Quito Tour Bus Stop 1: Naciones Unidas
Boulevard Naciones Unidas y Shyris
Quito,
Pichincha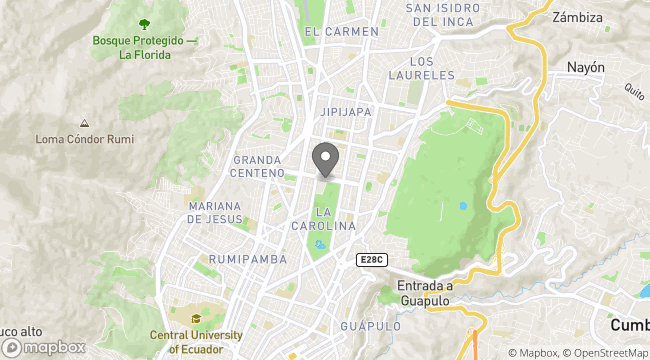 Bucket.
Bucket provides electronic tickets to the TOP attractions in Quito.
Find more Bucket. Events