Description
[RIZE SF] Diwali Dance Party by QT Nightlife, 18+
Celebrate any occasion with VIP Table Service. Packages start as low as $120. Make a reservation by going to https://linktr.ee/qtnightlife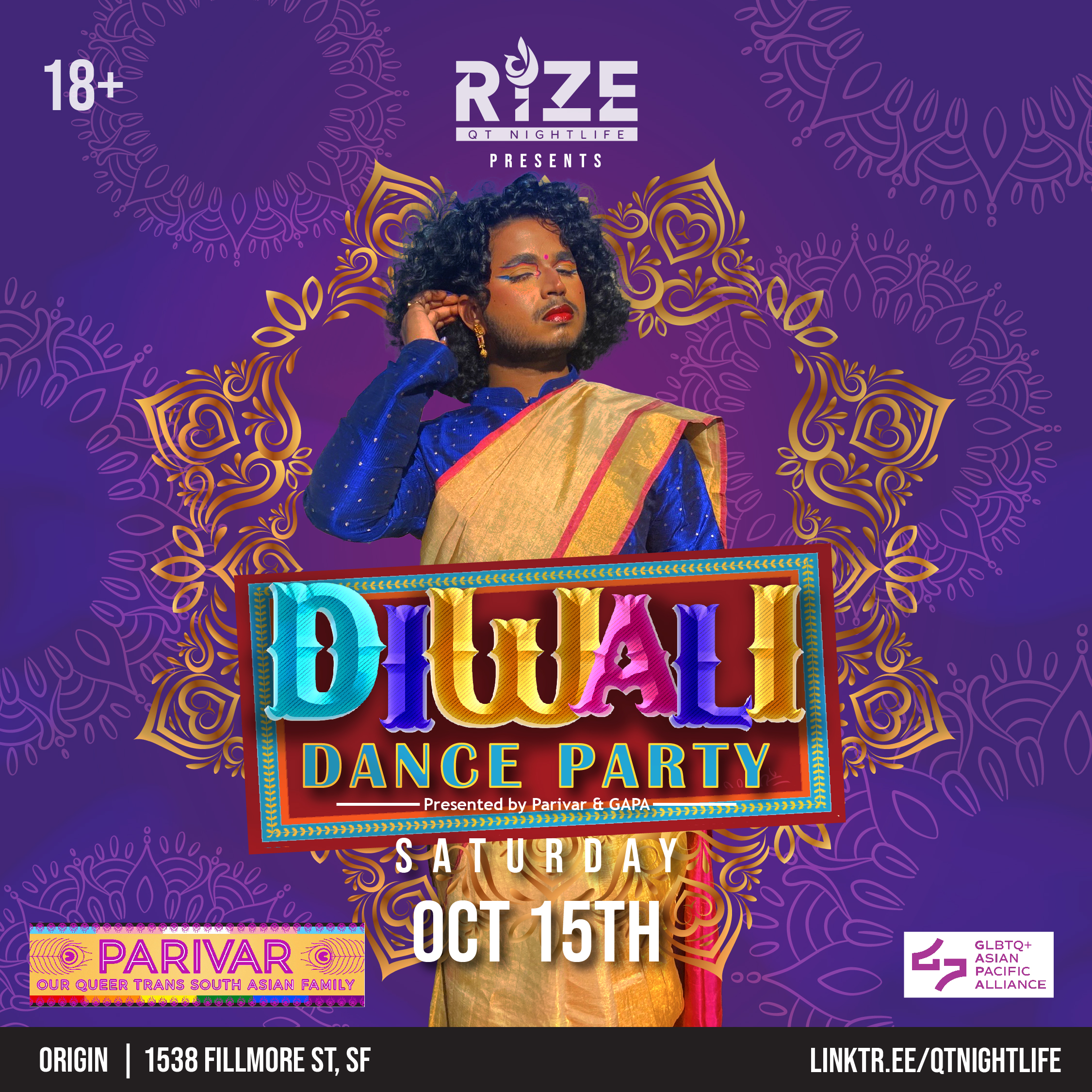 Parivar Bay Area | Parivar means FAMILY
Parivar Bay Area is America's only Transgender-led, Transgender-centering South Asian organization. With an inclusive definition of the South Asian diaspora, we strive for our trans queer family's collective liberation. Based in San Francisco Bay Area, California, our work reflects a global mindset through our three pillars: Advocacy Through the Arts, Community Building, and Global Disaster Relief.
GLBTQ+ Asian Pacific Alliance | Building QTAPI Community Since 1988
Established in 1988, GAPA was formed fundamentally to organize, integrate and nurture a growing gay & bisexual Asian and Pacific Islander identity and to foster positive role models within our communities. Three decades on we continue forward as a vanguard for the queer and transgender API community in the Bay Area. We helped build institutions like the SF Community Health Center, formerly API Wellness Center, and GAPA Runway, one of the longest-running SF pageants.
QT Nightlife | Empowering the next generation of queer and trans nightlife organizers
We center around the idea that space is essential for community. A space can bring us together as we celebrate in pride. In our spaces, we explore our identities and find our true selves. We build relationships, find love, and create connections that form community. Our spaces give us power and create room for joy. For queer and trans people, especially those of us with intersecting identities, space is essential.
Date & Time
Oct 15, 2022 9:30 PM - Oct 16, 2022 2:00 AM
QT Nightlife
Established in 2021, QT Nightlife is empowering the next generation of queer & trans nightlife organizers.