Description
[RIZE SF] K-POP OFF by QT Nightlife, 18+
🔥RIZE UP IN YOUR AREA -- it's RIZE'S first dedicated K-POP Night of 2023!
👬Presented by Blued (Gay Social Dating App).
🎶Music Videos by DJ Peter Lo, featuring 50% K-POP and 50% other Top 40 favorites.

🎭Dance Performance by Team Calico (

Ki To, Lexi Nutkiewicz, Madelin Braun)

ft. Baybaes.

🎁K-Pop Giveaways from SarangHello. Check out their new SF store!
🎂Sign up for your free birthday month ticket.
📅When's the next K-Pop Night? April 15th!

🙌

Join us every first Saturday at Origin Nightclub plus bonus events monthly.
🍾Celebrate any occasion with VIP Table Service. Packages start as low as $120. Make a reservation by going to https://linktr.ee/qtnightlife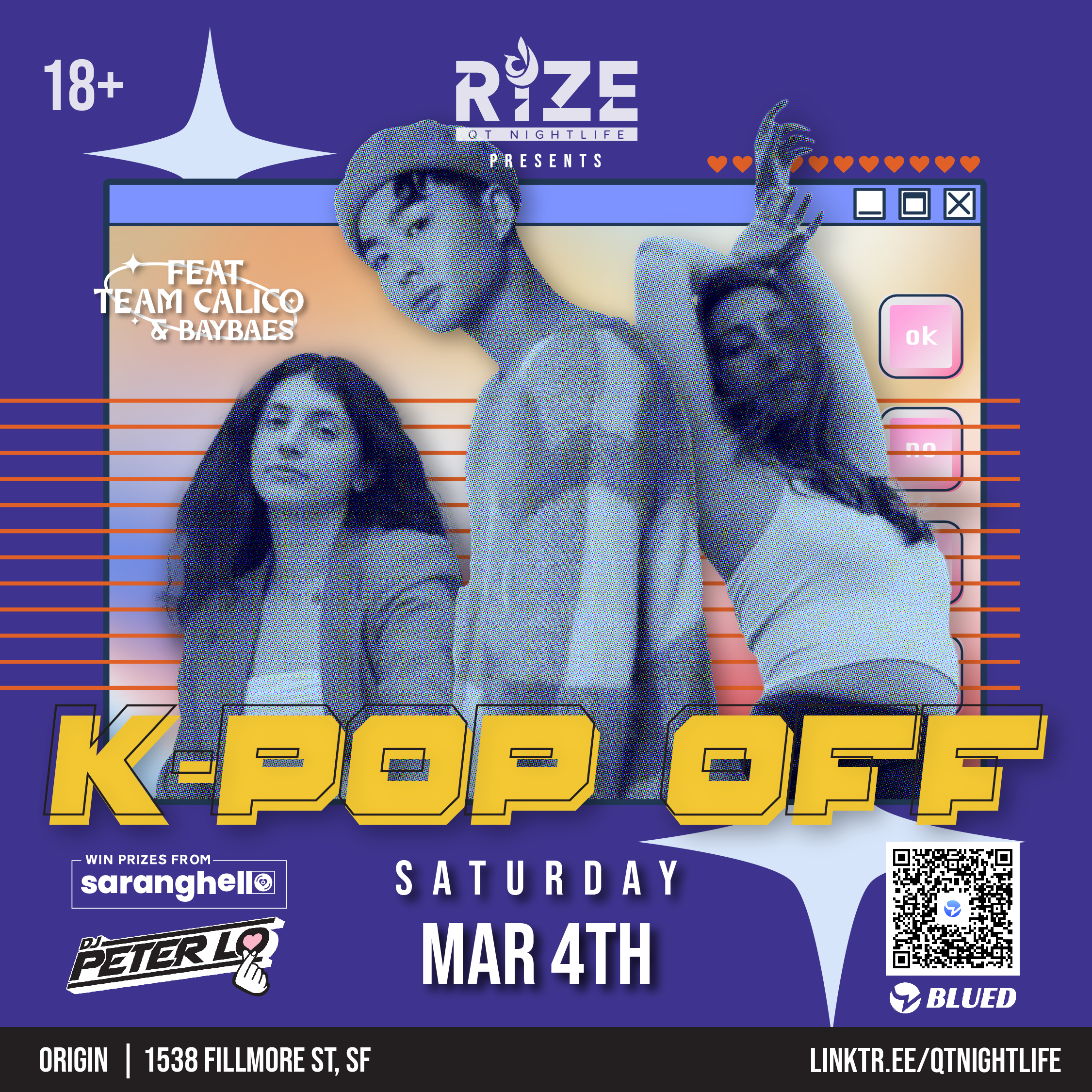 QT Nightlife | Empowering the next generation of queer and trans nightlife organizers
We center around the idea that space is essential for community. A space can bring us together as we celebrate in pride. In our spaces, we explore our identities and find our true selves. We build relationships, find love, and create connections that form community. Our spaces give us power and create room for joy. For queer and trans people, especially those of us with intersecting identities, space is essential.
Date & Time
Mar 4, 2023 9:30 PM - Mar 5, 2023 2:00 AM
QT Nightlife
Established in 2021, QT Nightlife is empowering the next generation of queer & trans nightlife organizers.