Description
The tenth-annual EBP Conference will introduce evidence-based practice initiatives that are in development or currently underway. These evidence-based initiatives are led by local healthcare providers, both independently and collaboratively.
The Conference will highlight initiatives that will introduce staff, students, and administrators to actual projects. Participants will be able to 'taste' the process, challenges, and rewards that nursing and other professional initiatives encompass for quality patient care and professional development and satisfaction.
We are accepting applications for presentations, posters, and the 3MT competition, so please consider submitting. Click on link below to access the application.
Monday, May 22, 2023 at TidalHealth Peninsula Regional
AGENDA
5:00-5:35 p.m. Registration (buffet dinner)
5:35-5:40 p.m. Welcome
5:40-6:25 p.m. Implementing a Virtual Sitter Monitoring Program
Teresa Niblet DNP, MS, RN-BC Chief Nursing Information Officer, Lori Somers MSN, RN, OCN, CNML Clinical Nursing Manager,
Melissa VanSant BSN, CPHQ, RN-BC Clinical Quality Specialist, Kelly Wilson, MSM, RN, PCCN, NEA-BC Nursing Director
TidalHealth Peninsula Regional
6:25-6:40 p.m. Break/Posters
6:40-7:40 p.m. Mini-Poster Presentations
A Proning Care Bundle to Reduce Facial Pressure Injuries
Annette Barnes DNP, CRNP, FNP-BC, CNE Assistant Professor, Graduate Program Director, Salisbury University School of Nursing; Megan Karin Tyndall BSN, RN (DNP Candidate) TidalHealth Peninsula Regional
Enhancing Screening of Anxiety and Depression in a University Student Health Center Using a Brief Screening Tool
Rachel Weber MSN, RN, CMSRN, CNE (DNP Candidate) Instructor, Salisbury University School of Nursing
Forensic Nurse Identification of Elder Abuse: Implementing the Elder Assessment Instrument
Maureen Reges, MSN, RN (DNP Candidate) Nurse Administrator, Public Health
A Mindfulness Exercise to Lower Anxiety as Part of a Nursing Simulation
Nicole Hall EdD, MBA, RN, CNE Assistant Professor; Tina Reid EdD, RN Professor
Salisbury University School of Nursing
7:40-7:50 p.m. Break
7:50-8:35 p.m. Nurse Led - Community Health Worker Model For Care Coordination
Kat Rodgers MPH, Director of Community Health Initiatives TidalHealth Peninsula Regional
8:35 p.m. Closing Remarks
Evaluations/Certificates
For questions, please contact Jennifer Hart, Vice President of Lambda Eta, at jahart@salisbury.edu
This activity has been submitted to The Maryland Nurses Association for approval to award three (3) contact hours. TidalHealth is approved as a provider of nursing continuing professional development by the Maryland Nurses Association, an accredited approver by the American Nurses Credentialing Center's Commission on Accreditation.
Online registration and processing fees include the event and continuing education credits.
Registration Fees
$45 non-members of Sigma
$35 members of Sigma
$30 students (ID required)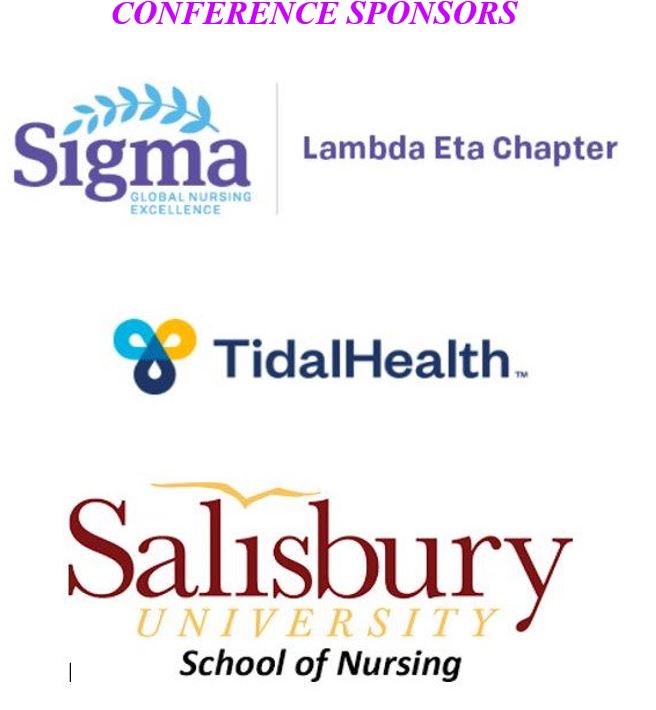 Date & Time
Mon, May 22, 2023 5:00 PM - 8:30 PM
Venue Details
TidalHealth Peninsula Regional Hallowell Conference Center
100 East Carroll Street
Salisbury,
Maryland
21801