Description
TADKA - South Asian LGBTQ+ SF Pride Saturday Party, 21+
Join us for the OFFICIAL PARIVAR PRIDE PARTY this San Francisco Pride 2022, co-presented by GLBTQ+ Asian Pacific Alliance (GAPA). Think of this as our extension of the historical QTAPI Week. Note our Global South Trans Night Friday event, here.
Located at the Holy Cow, 1535 Folsom Street, San Francisco. Doors open at 8:45pm, party begins at 9pm and we go on to 2am.
This is a Transgender-affirming, Transgender Hijrah-centering event and uplifting all Queer Trans People of Color. Groove to Bollywood, Kollywood, Nollywood, Indo-carribean music and enjoy the performances of the night.
Come support ParivarBayArea, America's only Transgender-centering Transgender-led Southasian Queer organization.
Tickets: $12 online and $20 at the door. Guestlist: $5 off at door.
No one will be turned away for lack of funds. Do write to us at parivarbayarea@gmail.com if you need assistance.
Happy Pride!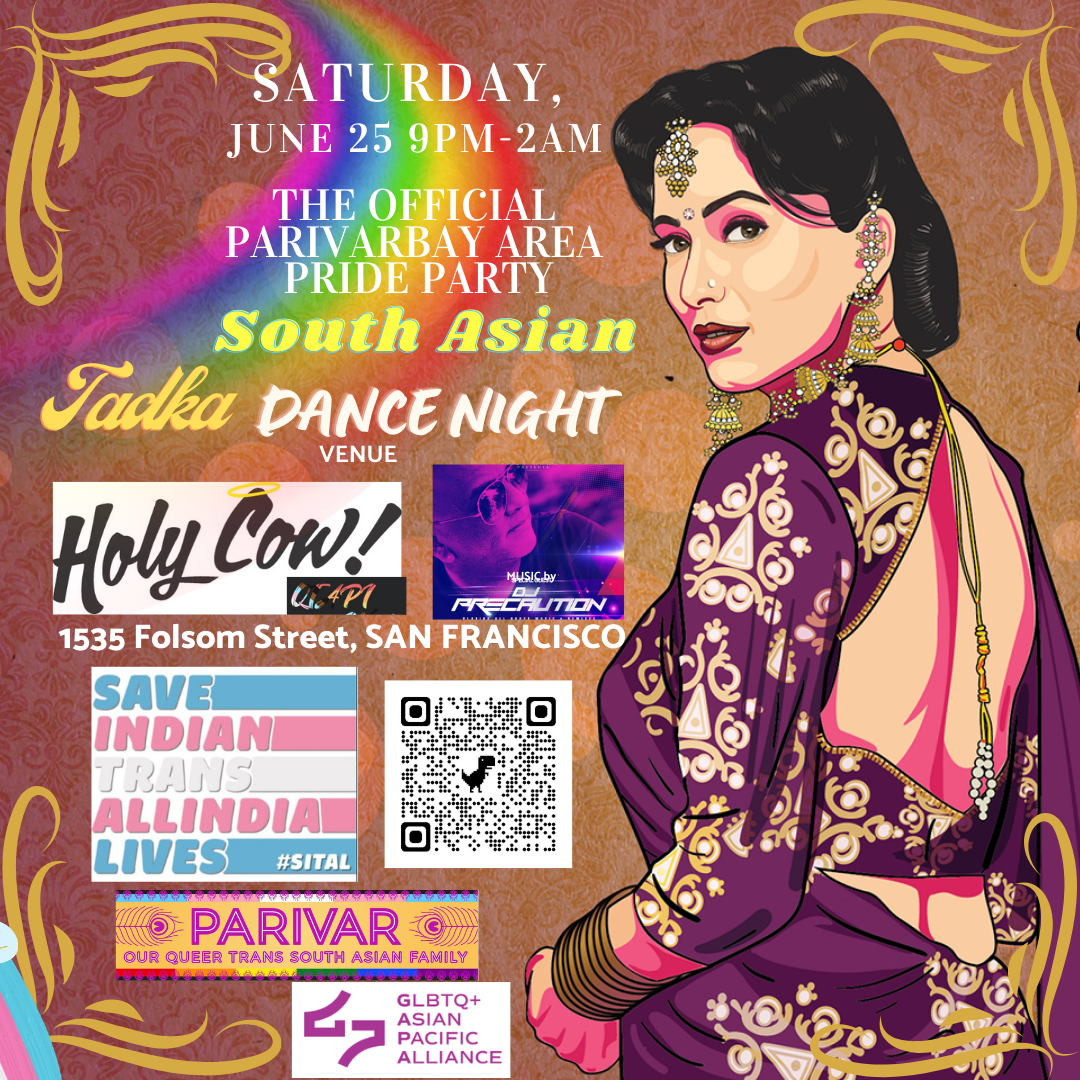 Parivar Bay Area | Our South Asian Queer Trans Family
Parivar Bay Area (Parivar means "family") was brought together as a social collective by individuals and community leaders to build the greatest and biggest family together beyond identities, sexualities, fluidities, national origins for the South Asian Diaspora. Parivar was not created as a reaction but as a strategically claimed social platform. Our mission stands clear as a safe space to showcase our South Asian and beyond heritage beautifully woven into our identities as unique and special beings, transcending our journeys and celebrating our culture, and being the home for everyone in the trans queer LGB family.
GLBTQ+ Asian Pacific Alliance (GAPA) | Building QTAPI Community Since 1988
GAPA's mission is to envision a powerful queer and transgender Asian and Pacific-islander (QTAPI) community that is seen, heard and celebrated. Our mission is to unite our families and allies to build a community through advocacy, inclusion and love.
QT Nightlife | Empowering the next generation of queer and trans nightlife organizers
We center around the idea that space is essential for community. A space can bring us together as we celebrate in pride. In our spaces, we explore our identities and find our true selves. We build relationships, find love, and create connections that form community. Our spaces give us power and create room for joy. For queer and trans people, especially those of us with intersecting identities, space is essential.
Date & Time
Jun 25, 2022 9:00 PM - Jun 26, 2022 1:00 AM
QT Nightlife
Established in 2021, QT Nightlife is empowering the next generation of queer & trans nightlife organizers.
Find more QT Nightlife Events