Description
Happy Birthday! Kidding Around is turning 10 this year and we are inviting you to celebrate with us!

To celebrate, we are hosting the Biggest Birthday Party Bash in Greenville at The Children's Museum of the Upstate and your family is invited. At our party, every kid will be honored as "the birthday kid" and there will be fun activities for all ages! Admission includes 2 hours of play in the museum, opportunity to win door prizes, birthday games and birthday favors.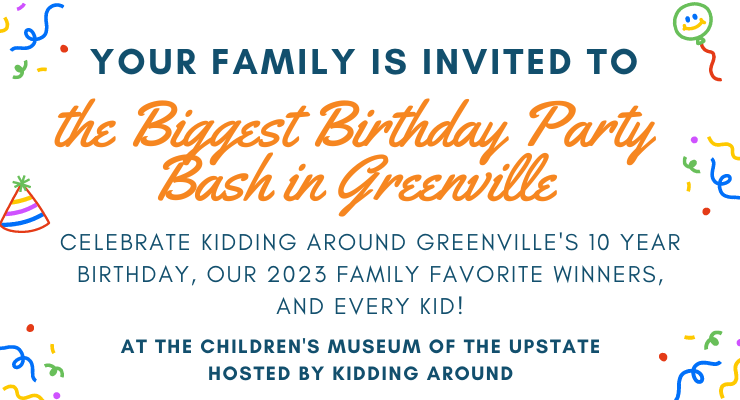 All the Details!
Date: February 24, 2023
Time: 6:30-8:30 pm
Venue: The Children's Museum of the Upstate in Greenville
Host: Kidding Around Greenville

What to expect:
Fun birthday themed party where every kid gets to be the birthday kid for the night!
2 hours of play in the many exhibits of the museum
Birthday Gifts (AKA door prizes) for lucky winners
Birthday games & favors from our many partners
A chance to meet our Family Favorite winners in person and learn about their offerings
Favorite royal guests from Once Upon a Dream Parties
Cost: $7/person with discounted rates for multiple tickets (Early bird rate)
Do you want to be a vendor? Please email bethany@kiddingaroundgreenville.com and request vendor information.
Terms & Conditions
Tickets are nonrefundable. If severe weather results in the event being postponed, a new date will be scheduled and tickets will transfer to the new date. All event information will be communicated via email and social media.

All children must be accompanied by an adult.
Date & Time
Fri, Feb 24, 2023 6:30 PM - 8:30 PM
Venue Details
The Children's Museum of the Upstate
300 College Street
Greenville,
South Carolina
29601