Description
The live show is over, but you can still buy a ticket and you'll get instant access to view the full recording of the live show for a whole week!
As soon as you purchase your ticket here, you'll receive a confirmation e-mail from "SimpleTix Orders" with your link and passcode to access the recording.
Recording will be available for viewing until the night of Monday, March 28th at 11:59pm Pacific Time (we've extended by an extra day so you have a little more time to check it out!)
As long as you start watching by any time prior to that, you'll be able to finish the whole show and won't be cut off at midnight or anything.
This recording won't be made available to the public; it's ONLY for the fine folks who buy (or have already bought) tickets!
Closed captioning is included and can be toggled on/off during viewing.
Very Special Guest appearance by GRIFFIN NEWMAN (Orko enthusiast and the actual voice of Orko on the Netflix series Masters of the Universe: Revelation)!
Don't miss:
- Actual Orko in a room full of Orko swag
- Elliott celebrating and mourning toys of his youth
- Stuart in cheetah-wear while his cat makes repeat cameos
- Dan's most bonkers bit on any live show? Or at least his most bonkers mustard-related bit?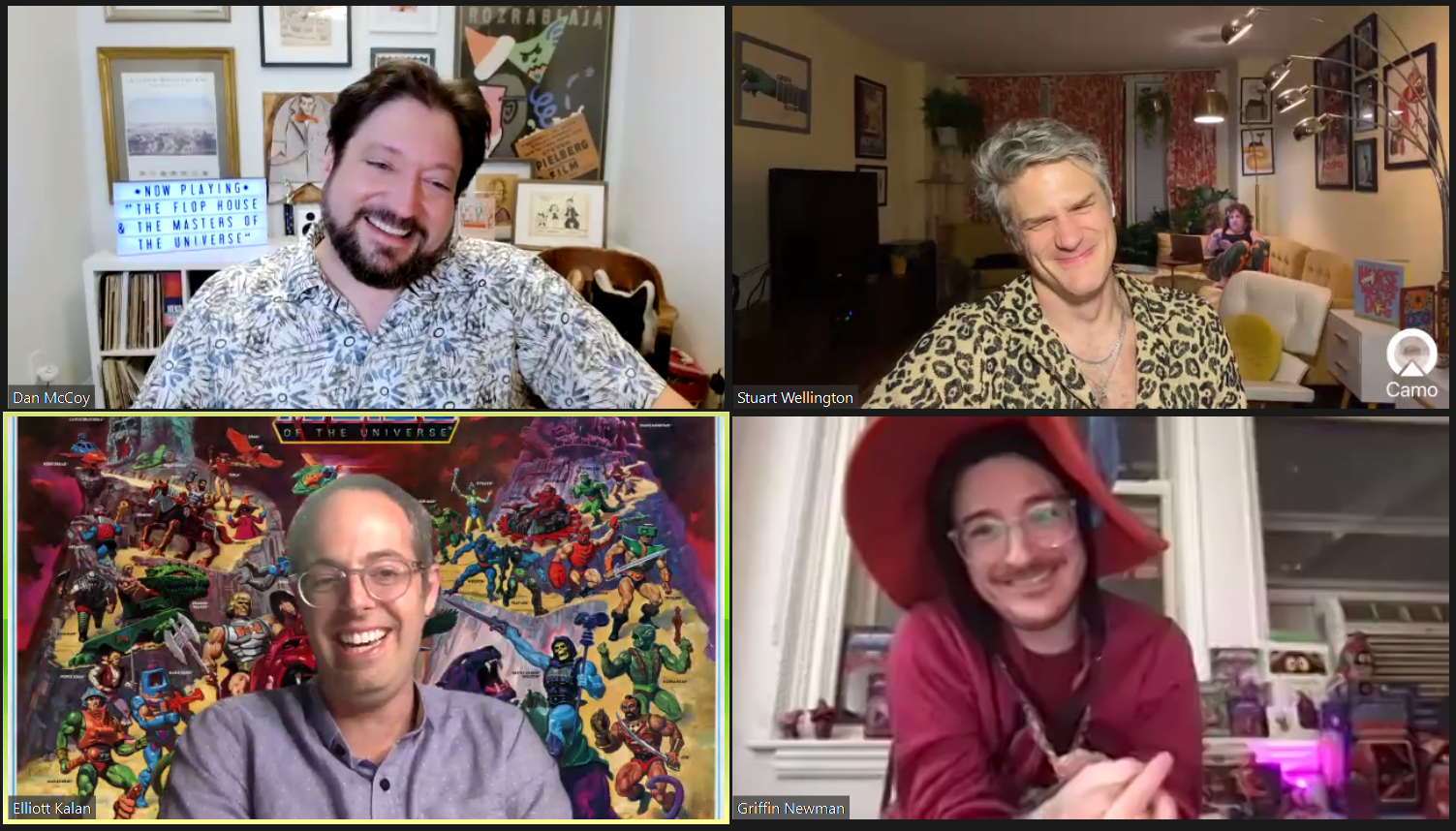 ---------------------------------
Original show description:

We're coming at you live with another ticketed online show! Stuart, Dan, and Elliott will discuss 1987's MASTERS OF THE UNIVERSE, the film that answers the question, "What if Courteney met a Skeletor?"

You'll also experience exclusive-to-this-show PowerPoint presentations, audience polls, and participate in a live Q&A "Ask the Floppers" session at the end.
Chat with your fellow floppers as we ramble on about nonsense and, occasionally, talk about Masters of the Universe. Good-bad? Bad-bad? Or a movie we kinda Lundgren?
Your ticket purchase also gets you access to a video recording of the live show for a whole week afterward, so you'll be able to watch the entire show even if you can't join live (or live in a part of the world where most people are asleep at 9pm Eastern). This recording access is exclusive to ticket holders for this show. Recording link will be e-mailed to all ticket holders the day after the show.
ACCESSIBILITY: Closed captioning will be enabled on both the live show and the recording, and you'll be able to toggle it on/off for yourself according to need/preference.
Date & Time
Mar 19, 2022 9:00 PM - Mar 29, 2022 3:00 AM
Housecat Productions, Inc.