Description
Consulate General of Japan in Seattle and Japan Business Association of Seattle (Shunju Club) Business and Culture Committee Joint Seminar
「US Economic Trends and Business with Japanese Companies」
As global affairs are changing rapidly, the US economy faces challenges that require strategic action. Due to worldwide inflation, the US interest rate policy has drawn considerable attention, and these economic dynamics are also reflected in currency exchange fluctuations, affecting business between Japan and the United States. As for Japan and the State of Washington, a Memorandum of Cooperation on Economic and Trade Relations has been renewed in June 2022 to further support and coordinate efforts in next-generation industries and to strengthen the cooperative relationship between the parties. This seminar will explain US economic trends focusing on finance in Japanese. Also, it introduces valuable tips to do business with Japanese companies in English.* A reception will follow the presentations.
* Japanese and English translations will be displayed simultaneously as needed during the seminar.
【SCHEDULE】
Date/Time:Friday, September 23, 2022, 5-7 pm
  Greetings and Presentations: 5-6 pm
  Reception: 6-7 pm
Location: Official Residence of Consul General of Japan
Fee: $35 for Member, $50 for Non-Member
Capacity: 50 people
Registration Deadline: Friday, September 16, 2022
Other:
Location details will be sent after registration.

Registrations are final with no cancellation or reimbursement.

No walk-in is allowed.

No audio or video recording or photography is allowed.

A light meal will be served at a reception.
【AGENDA】
〜Greetings〜
Hisao Inagaki, Consul General, Consulate General of Japan in Seattle
Radi Simeonova, Managing Director, Business Development, Office of Economic Development & Competitiveness, Washington State Department of Commerce
〜Presentations〜
"US Economy Faces Many Uncertainties; What's Next?"
Ryosuke Nakahara, Associate, Global Market Division for the Americas, MUFG Union Bank, N.A.
"Where Negotiations Can Go Wrong: Common American Misconceptions when Negotiating with Japanese"
Sara Sandford, Mediator, Benchmark International ADR, LLC
〜Reception〜
【SPEAKERS】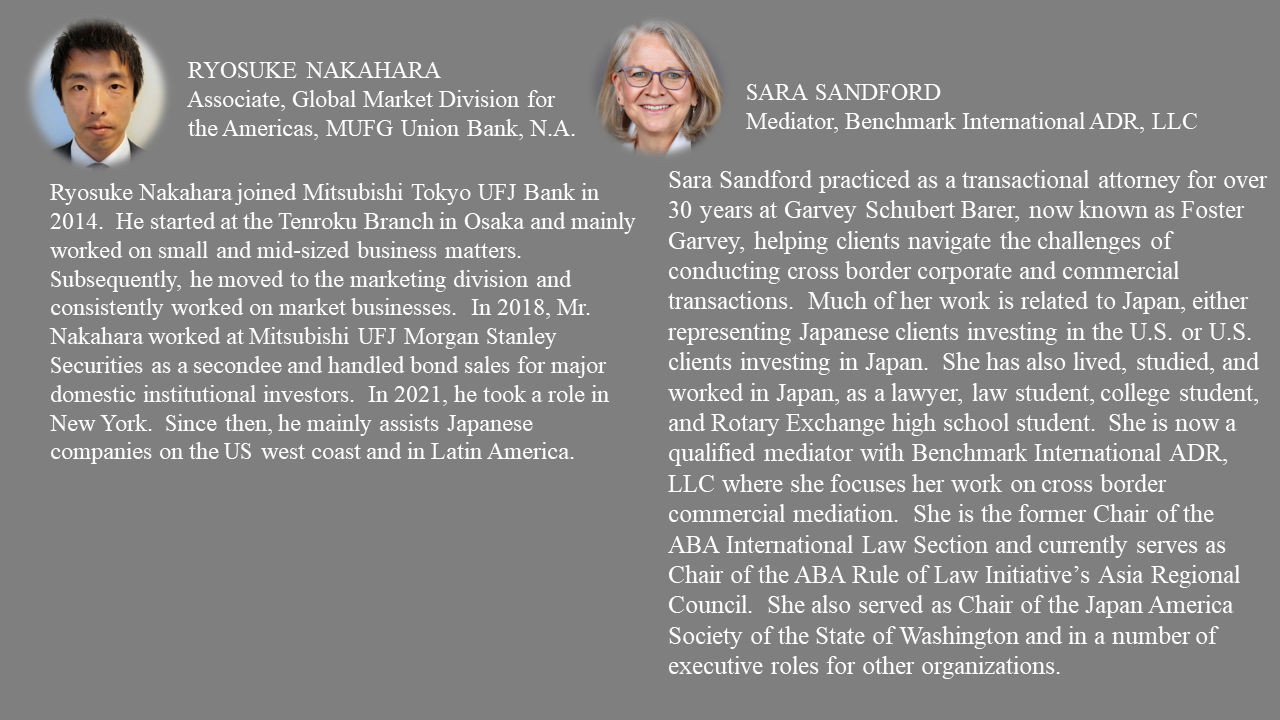 Date & Time
Fri, Sep 23, 2022 5:00 PM - 7:00 PM
Venue Details
Official Residence of Consul General of Japan (the map below doesn't show an actual location)
**** See your confirmation email for the street address ****
Seattle,
Washington
98109