Description
Biker Cholim 10th Anniversary Yoni Z Concert
Get ready for an unforgettable musical experience as we bring you the "Yoni Z Concert", a night filled with breathtaking performances that will captivate your senses and leave you mesmerized. We are thrilled to present this concert as we celebrate 10 years of our Men's Biker Cholim Event. This event supports the vital work of Baltimore Bikur Cholim.
Venue
Set in the beautiful Murphy Fine Arts Center, an iconic venue in the heart of Baltimore, Maryland, the concert promises a spectacular ambiance that complements the musical extravaganza. Known for its world-class acoustics and stunning architecture, the Murphy Fine Arts Center is the perfect backdrop for this grand concert.
About Yoni Z
Yoni Z is an artist par excellence, who has won the hearts of many with his unique blend of music. His performances are not just concerts, they are a journey – of emotions, experiences, and ecstasy. His soulful voice, combined with his engaging stage presence, makes each of his concerts an experience to remember.
So, mark your calendars and get ready to immerse yourself in a musical extravaganza that you won't forget! We look forward to seeing you at the Yoni Z Concert!
About Bikur Cholim
In 1985, a group of dedicated volunteers came together to start Bikur Cholim of Baltimore. Our mission was clear: to support individuals facing illness within the Jewish community. Over the years, we have been privileged to serve countless individuals and families from both Baltimore and around the world who come here for medical care.

At Bikur Cholim of Baltimore, we cover all of Baltimore and its surrounding areas, providing a range of support services to patients and their families, whether they are hospitalized or homebound. Our services extend not only to the local community but also to Jewish families seeking medical care in the area hospitals and facilities.

Our vision is to harness the kindness and compassion of our community to uplift patients and their families, both near and far. We aim to lighten their burden by offering meals, transportation, visits, respite, kosher hospitality rooms in local hospitals, a dedicated apartment for out-of-town patients, free-loan medical equipment, and more.

We firmly believe that patients should be able to focus on their recovery, knowing that the community is there to assist them in any way possible.

We invite you to join us in supporting this vital organization. Every contribution, no matter the size, makes a difference. Thank you for your generosity. https://baltimorebikurcholim.org/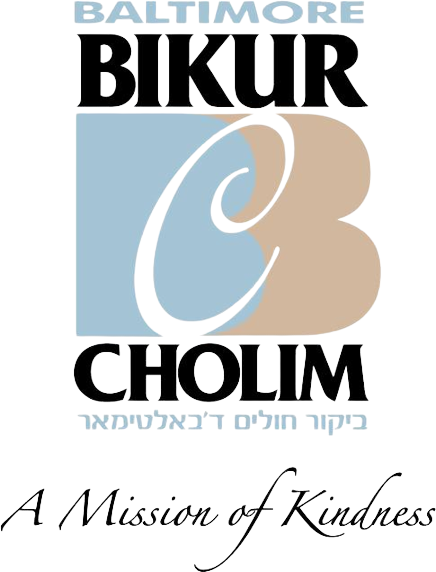 Bikur Cholim of Baltimore